Rainbow Nimbus Has Arrived!
ANNOUNCE
12/16/2013 2:04:09 PM

It takes the perfect amount of rain, fog, sunshine, humidity, and magic to form a Nimbus friend, and the elusive Rainbow breed is the rarest of them all. Float away on your own fluffy paradise; this trusty companion will carry you lovingly from point A to point B, willing to die for you at any dangerous moment in between.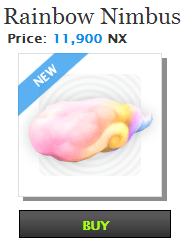 For the first time ever, the weather conditions are just right… from January 3 – January 16, you too can take home a Rainbow Nimbus of your very own.