Merry Christmas Box
ANNOUNCE
12/12/2017 2:09:07 PM

Deck the halls with boughs of...halos? The holidays are creeping up on us, so it's time to dress for the occasion! Take a peek at our new Merry Christmas Box to find loads of goodies, like Pegasus Wings, Christmas Coats, and more! Check out the details below!
---
Merry Christmas Box
Sale Dates:
Thursday, Dec. 14 - Wednesday, Jan. 3
---
Item Details:
Open a Merry Christmas Box to receive a Bounty Package, Fine Bounty Package, or a Finest Bounty Package along with a random item from the list below! The packages are a part of our current promotion, Shy's Star Shop!
New Items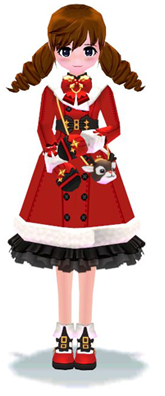 Cross Empire Sword Appearance Change Scroll
Cross Empire Great Blade Appearance Change Scroll
Cross Empire Gale Cylinder Appearance Change Scroll
Cross Empire Shield Appearance Change Scroll
Cross Empire Dual Gun Appearance Change Scroll
Additional Items
Frostblossom Footsteps 2nd Title Coupon
Twilight Snowfield 2nd Title Coupon
Maltreat Fury 2nd Title Coupon
Enchanted Bride's Wig
Enchanted Bride's Wedding Dress
Debonair Groom's Tuxedo
Winter Angel 2nd Title Coupon
Be Careful of Icy Roads 2nd Title Coupon
Christmas Dye Ampoule Set
Enchanted Bride's Wig and Veil
Enchanted Bride's Ankle Boots
Lovely Snowflake Coat (M)
Lovely Snowflake Coat (F)
Cheerful Snowflake (M)
Cheerful Snowflake (F)
Joyful Snowflake Coat (M)
Joyful Snowflake Coat (F)
Snow Bunny Nordic Beanie (M)
Snow Bunny Nordic Beanie (F)
Skating Outfit (M)
Ice Skates (M)
Figure Skating Outfit (F)
Figure Skates (F)
Snowboard Outfit (M)

Snowboard Oufit (F)
Snowboard
Royal Crystal Wing Sword Appearance Scroll
Royal Crystal Wing Bow Appearance Scroll
Debonair Groom's Gloves
Debonair Groom's Shoes
Enchanted Bride's Bracelet
Lovely Snowflake Gloves (M)
Lovely Snowflake Gloves (F)
Lovely Snowflake Boots (M)
Lovely Snowflake Boots (F)
Lovely Snowflake Hat (M)
Lovely Snowflake Hat (F)
Cheerful Snowflake Gloves (M)
Cheerful Snowflake Gloves (F)
Cheerful Snowflake Boots (M)
Cheerful Snowflake Gloves (F)
Cheerful Snowflake Hat (M)
Cheerful Snowflake Gloves (F)
Snowboard Gloves (M)
Snowboard Boots (M)
Snowboard Beanie (M)
Snowboard Gloves (F)
Snowboard Boots (F)
Snowboard Beanie (F)
If It Snows On Christmas 2nd Title Coupon
I Hope It Rains On Christmas 2nd Title Coupon

Santa Sleigh
Christmas Rocking Horse
Chimney Chair
Royal Crystal Wing Sword (Reforge: Rank 1)
Royal Crystal Wing Shield (Reforge: Rank 1)
Royal Crystal Wing Bow (Reforge: Rank 1)
Royal Crystal Wing Staff (Reforge: Rank 1)
Unrestricted Dungeon Pass
Rusty Hammer of Proficiency
Platinum Hammer of Durability
Direct Pet Dye Ampoule
Direct Dye Ampoule
Direct Magical Instrument Dye
Direct Metal Dye Ampoule
Snowflake Dress
Snowflake Coat
Snowflake Boots
Snowflake Shoes
Snowflake Hat
Snowflake Hairpin
Skate Helmet (M)
Figure Skating Wig (F)
Lorna's Goldbox
Pan's Goldbox
Focused White Beam Sword
Focused Blue Beam Sword
Focused Red Beam Sword
Focused Green Beam Sword
Enthralling Performance Training Potion
Combo: Charging Strike Training Potion
Combo: Focused Fist Training Potion
Combo: Spinning Uppercut Training Potion
Combo: Somersault Kick Training Potion
Combo: Drop Kick Training Potion
Combo: Pummel Training Potion
Combo Mastery Training Potion
Enchant Training Potion
Shuriken Mastery Training Potion
Shuriken Charge Training Potion
Kunai Storm Training Potion
Explosive Kunai Training Potion
Shadow Bind Training Potion
Shadow Cloak Training Potion
Smokescreen Training Potion
Sakura Abyss Training Potion
Blue Upgrade Stone (Quantity: 5)
Red Upgrade Stone (Quantity: 5)
Flashy Fixed Color Dye Ampoule
Fixed Color Metal Dye Ampoule (#000000, #FFFFFF, #FF0000, #8F1010, #BB9955, #241E1D, #0DEE2B, #108F32, #FFACE2, #F3C797)
Fixed Color Dye Ampoule (#000000, #FFFFFF, #FF0000, #8F1010, #BB9955, #241E1D, #0DEE2B, #108F32, #FFACE2, #F3C797)