Starblade Shuriken Giveaway
EVENTS
7/16/2014 11:55:16 AM

No weapon in the Ninja's arsenal is as iconic as the mighty Shuriken. Starblade Shurikens are particularly good at finding their mark, and can be freely earned by logging in on Saturday, July 26.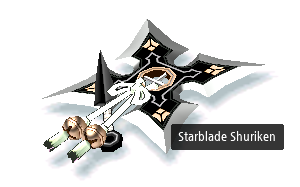 Event Dates:
Saturday, July 26 (1 day)
Event Details:
Log in on Saturday, July 26 between 12:00 AM and 11:59 PM PDT to receive a free Starblade Shuriken in your inventory.

The act of logging in will trigger this reward, which will be received immediately upon logging in.
Character must be Level 30 or higher to receive the reward.

Reaching Level 30 will not immediately trigger the reward; you will need to re-log in after achieving Level 30 to receive the item.