The Return of Doki Doki Island - Updated Rewards!
ANNOUNCE
9/9/2014 10:42:11 AM

Lined with vibrant beaches and lush jungles, this gorgeous Island paradise is a favorite getaway of friends, lovers, social butterflies, and everyone looking to spice up their day with a little something special. With so much to do and experience how will you make the most of Doki Doki?
Event Dates:
September 11th, 2014 - October 5th, 2014
---
Table of Contents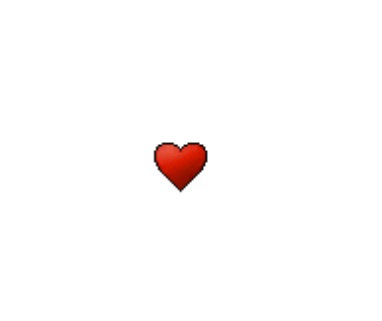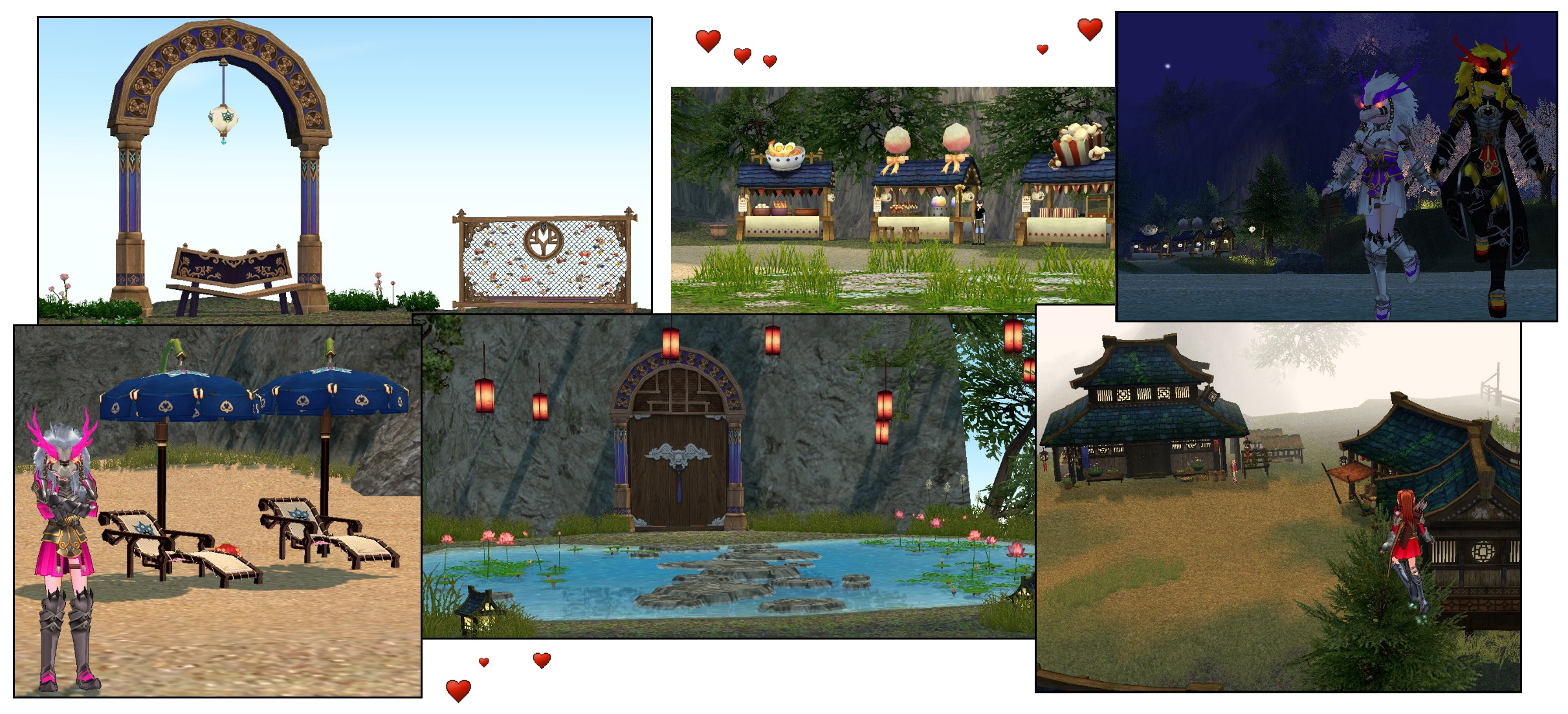 The Newcomer's Guide to Doki Doki Island
Feel your toes sink into the warm sand as you step foot on Doki Doki Island. This secluded paradise boasts beautiful scenery and beach parties that rage all day, all night... all the time.
The Guide Quest
A
Guide Quest
is given to all players so long as this special seasonal event is active. Your travel agent is none other than
Caravan Joe
, located in Dunbarton. Speak to him about arranging a journey to Doki Doki Island.
Doki Doki Celebration Box?
This special item is awarded for completing various events and mini-games around the island, or by redeeming Cat Eyes to Mansur the Jeweler. Open one up to find fine fabrics and leathers, precious gems, gesture coupons, couple's themed totems, and more!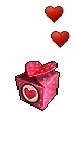 When you disembark, you'll find a
Matchmaker
waiting to welcome you to Doki Doki.
As part of the Guide Quest, she can register your Matchmaking profile. Doki Doki is an experience best suited to couples, so find yourself a
Soulmate
and get your heart beating! Already have a partner in mind? Just right-click and "
Select Soulmate
" on anyone on the island.
Finish your Guide Quest and earn your very first
Doki Doki Celebration Box
by talking to Wenger the Caretaker – he knows how to get you home.
The Soulmate System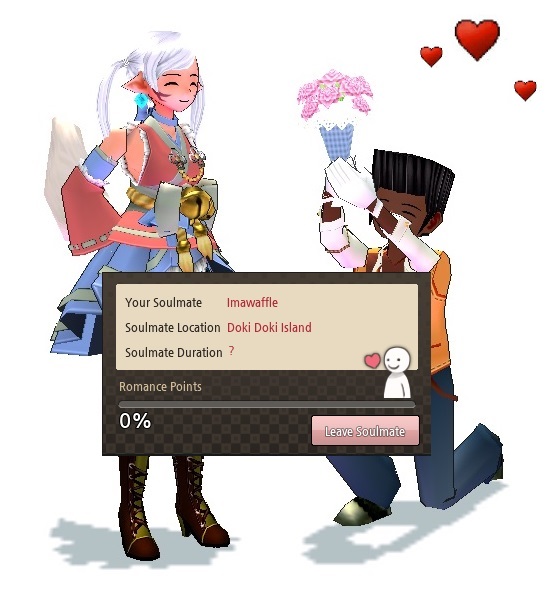 Matchmakers all over Doki Doki Island are ready and willing to set you up with the Milletian of your dreams! Existing couples can skip the formalities, but singles are advised to
set up a profile
. If you're not one for online dating, there's nothing stopping you from meeting that special someone on your lonesome!
You can proposition any unclaimed player regardless of race or gender
.
You can break up with your Soulmate at any time, just remember that if you do,
you'll lose all the Romantic Points you've built up with that player
and will have to start all over again.
Romantic Points
They say love can't be measured… except on Doki Doki Island! By enjoying all of what Doki Doki has to offer, you'll accrue
Romantic Points
.
| Action | Romantic Points |
| --- | --- |
| Score 50pts or more in a Doki Doki Dance Party | 40 Romantic Points |
| Stand by Your Soulmate (within 20m) | 10 Romantic Points every 5 minutes |
| Successfully compelte the Depths of the Heart Test | 100 Romantic Points! (1% of overall likeability) |
The more points you accrue, the more you'll fall in love with your partner, as indicated by the
likeability meter
.
100 Romantic Points = 1%
Earn enough points and you'll earn
the greatest gift of all…
TRUE LOVE.
Oh, and the power of
Flight
.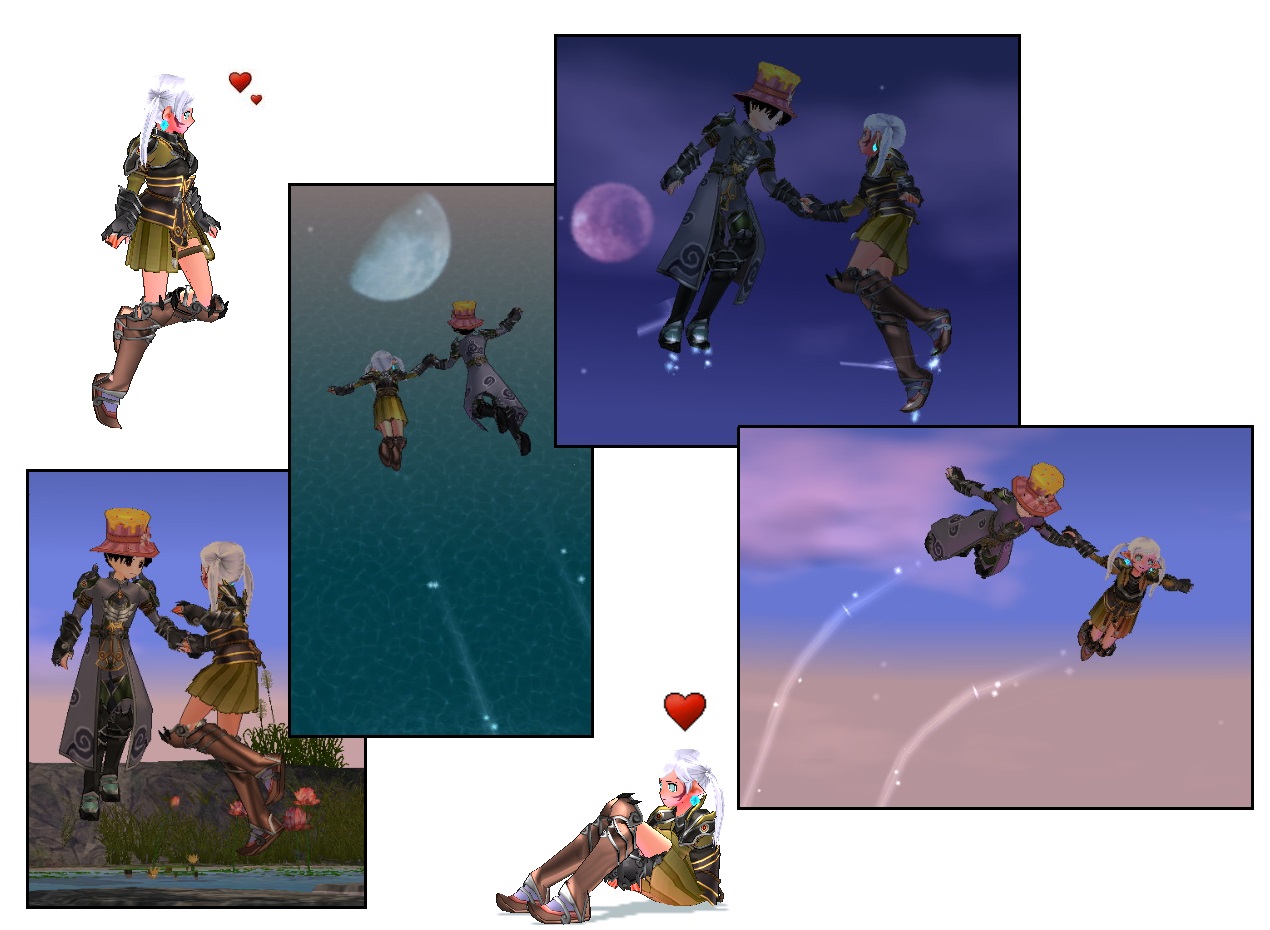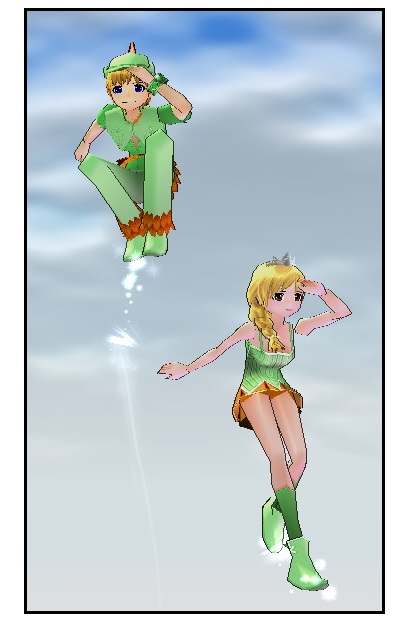 Couples Flight – Fly with the Power of Love!
If you want love to lift you up off your feet, you'll need to reach 20% likeability with your partner, though your new abilities will be confined to the island. You'll be pretty in love… but you know – not
really
in love.
If you want to see the entirety of mainland Erinn from amongst the clouds, you and your Soulmate will need to achieve
100% likeability
.
Flight - the ability to fly anywhere on Doki Doki Island.
Couples Flight - the ability to fly anywhere in Erinn where flying is permitted.
Once you've activated either of the above actions, you'll have the ability to both
Fly
and
Fly Together
with your partner.
Getting to Know the Island
Doki Doki is a beautiful place, and simple to navigate once you've memorized all the major landmarks.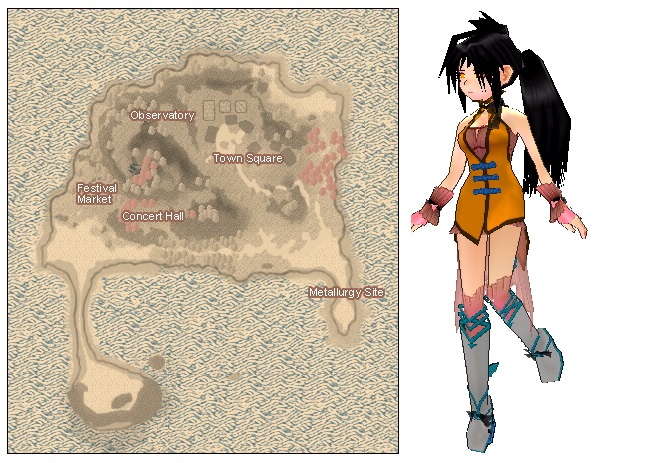 The Harmony Torch
An ancient, mystical torch in the center of Doki Doki's Town Square is the hub of the island's activity. Celebrate the Harmony Torch by lighting a fire of your own!
Building a campfire and resting nearby will award EXP every 5 seconds
.
Starting to feel a little intoxicated? Spend too much time resting at the Torch and you'll get a tingling
Lovey Dovey
feeling…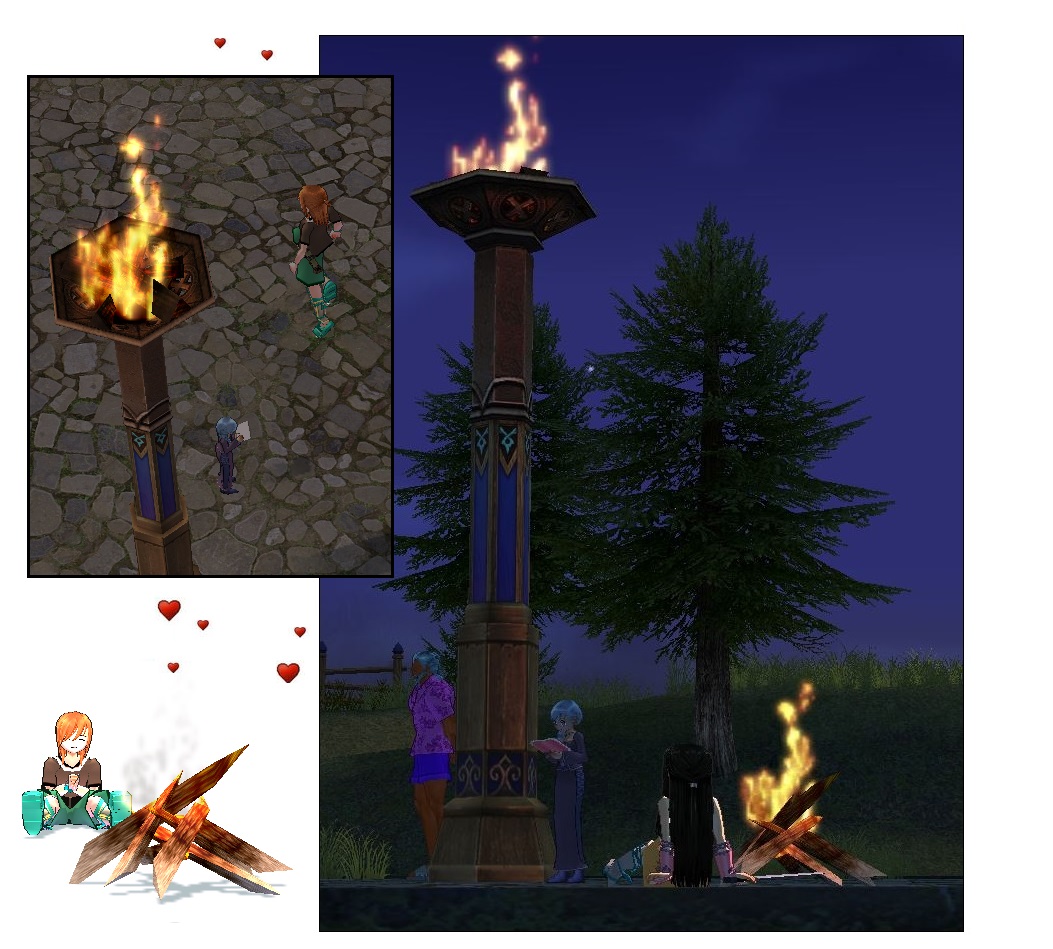 Lovey Dovey Buff
All Stats + 20
Max HP + 100
Max MP + 100
Max Stamina + 100
Max Damage + 30
Critical + 5
Defense + 5
Protection + 5
Magic Defense + 5
Combat EXP +50%
This special buff will last for 30 minutes, beginning the moment you stop resting.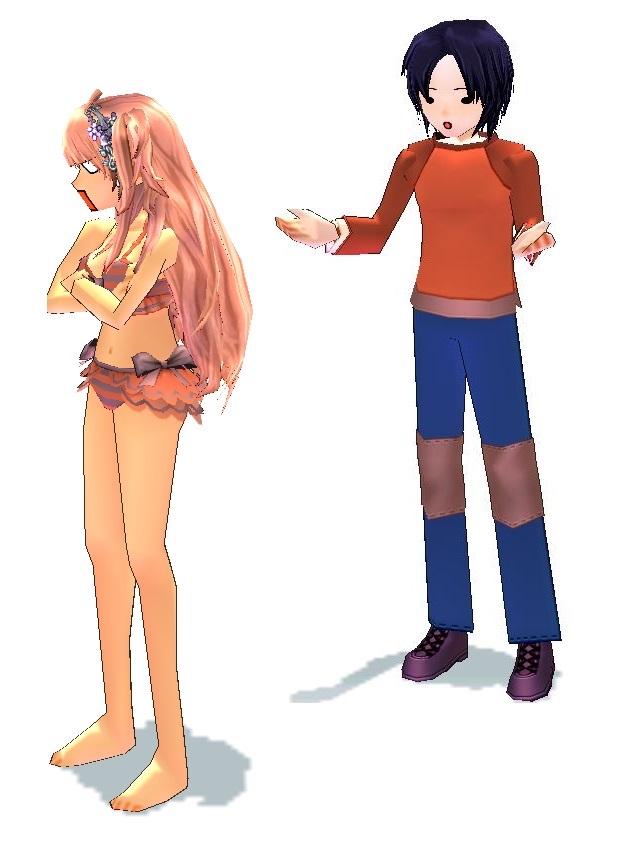 The Depths of the Heart Test Psychology Students can be found throughout Doki Doki, studying the effects of love and romance on volunteer test subjects. Show one how well you know your Soulmate by taking the Depths of the Heart Test.

You'll be asked a random question, and if you and your match answer simultaneously and prove you're in-sync, you'll win a
Doki Doki Celebration Box

and advance

1% on your likeability meter

.

This special test is only available once per day.



Fun & Games
There's no end to the amount of fun you can find on Doki Doki Island. Take a little time off from your daily routine to play mini games and win a variety of

Romantic Rewards…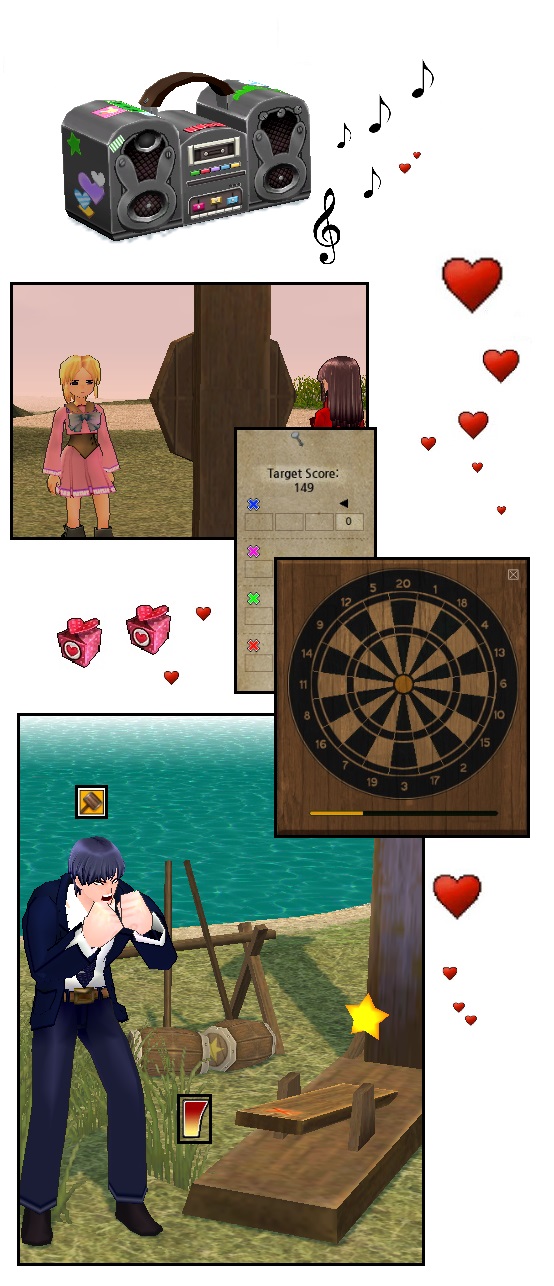 The Doki Doki Dance Party is an opportunity to strut your stuff for all the Town Square to see. Match the steps in order and on-time to execute strong, effective dance moves. If you and your Soulmate score 50 points or above you'll both earn 40 Romantic Points!

To start dancing, you'll need a

Boom Box

. Speak to Wenger the Caretaker to learn more.

It wouldn't be a party without Darts, right?

The more the merrier! Gather up a group of pals and test your marksmanship. This dart board is right by the bluff, so you'll need to account for the wind. Take the top spot in your community's competition and you'll walk away with a

Doki Doki Celebration Box

.

Step right up ladies and gents, the classic Hammer Game is here for one and all to enjoy! Grab the mallet and show your strength. Score over 100pts and you'll take home a

Doki Doki Celebration Box

.

Additionally, a secluded concert section on the south side of Doki Doki Island hosts a special Stage, as well as a few familiar celebrities…

Grab your bandmates and rent out this awesome amphitheater for anywhere between 5 to 30 minutes. You won't take home any points or boxes, but

Starlet

will be the first to tell you: the joy of performing is its own reward.



Helping Out & Kicking Back
Games are all well and good, but this island doesn't sustain itself. If you're planning on spending any amount of time here, ask Wenger about how you can give back to the community and lend a helping hand.



Daily Quests: Fishing, Cooking, and Metallurgy
Doki Doki's old caretaker sure has his hands full catering for all the guests. How about helping to compose a little tasty seafood?


| Category | Recipe | Ingredients |
| --- | --- | --- |
| Baking | Tuna Wrapped Bacon | Bluefin Tuna, Bacon, ? |
| Mixed | Salmon Salad | Salmon, Celery, ? |
| Mixed | Seasoned Tuna with Onions | Bluefin Tuna, Onions, ? |
| Stir-Frying | Silverene and Snapper | Silverine Snapper, Leighean Gin, ? |
| Boiling | Silverine Tea | Hazelnut Fruit, Bottled Water, ? |
Prefer to get your hands dirty? If you've got a
Metallurgy Sieve
, you could find all sorts of treasures buried in the sands, including Peridot, Fire Opal, Turquoise, Amethyst, Lapis Lazuli, Rose Quartz, Alexandrite, Spodumene, and if you're lucky,
Cat's Eyes
.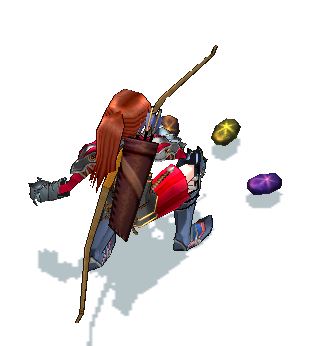 Cat's Eyes
Their unique shimmer makes
night the best time to find them
, but they're easily missed with the hot sun beating down on the sand.
Rumors abound that they're most prevalent in the
Southeast corner
of the island…
Take these to
Mansur
the Jewel Collector, who hangs out beside Wenger. He's crazy for these little gems, and he's got some very rare items he's willing to trade if you collect enough…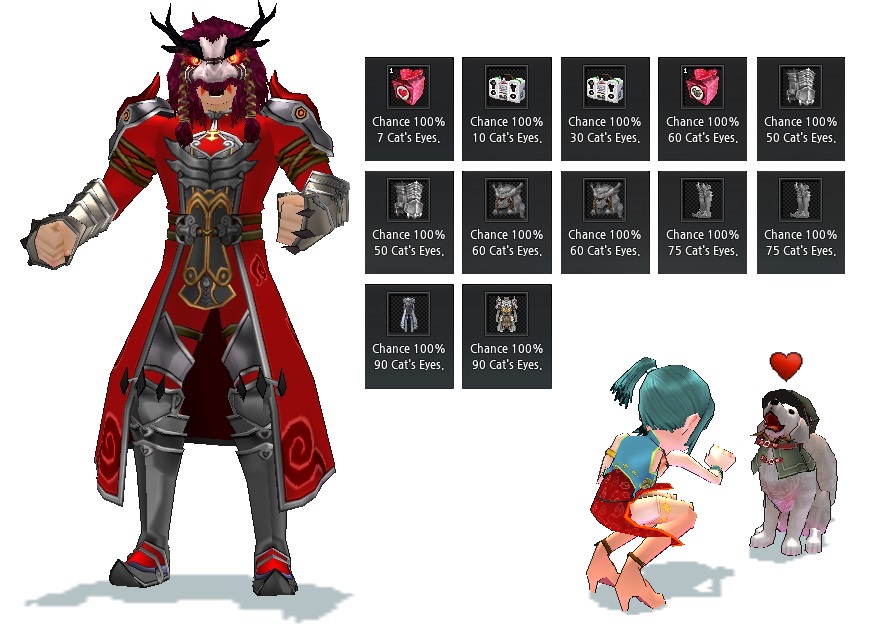 Among the most prized of Mansur's possessions is the
Doki Doki Pet Box
, which will award you one of several dolled up doggies or kitties, as well as individual pieces of the exotic
Lunar Dragon Armor Set
.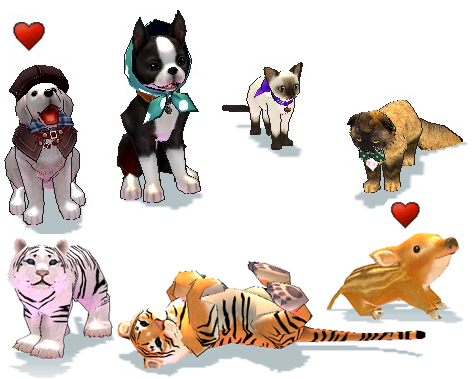 Mansur is also now debuting a
Doki Doki wing box
, which will award you one of several lovely
heart-shaped wings
, some of which are permanent!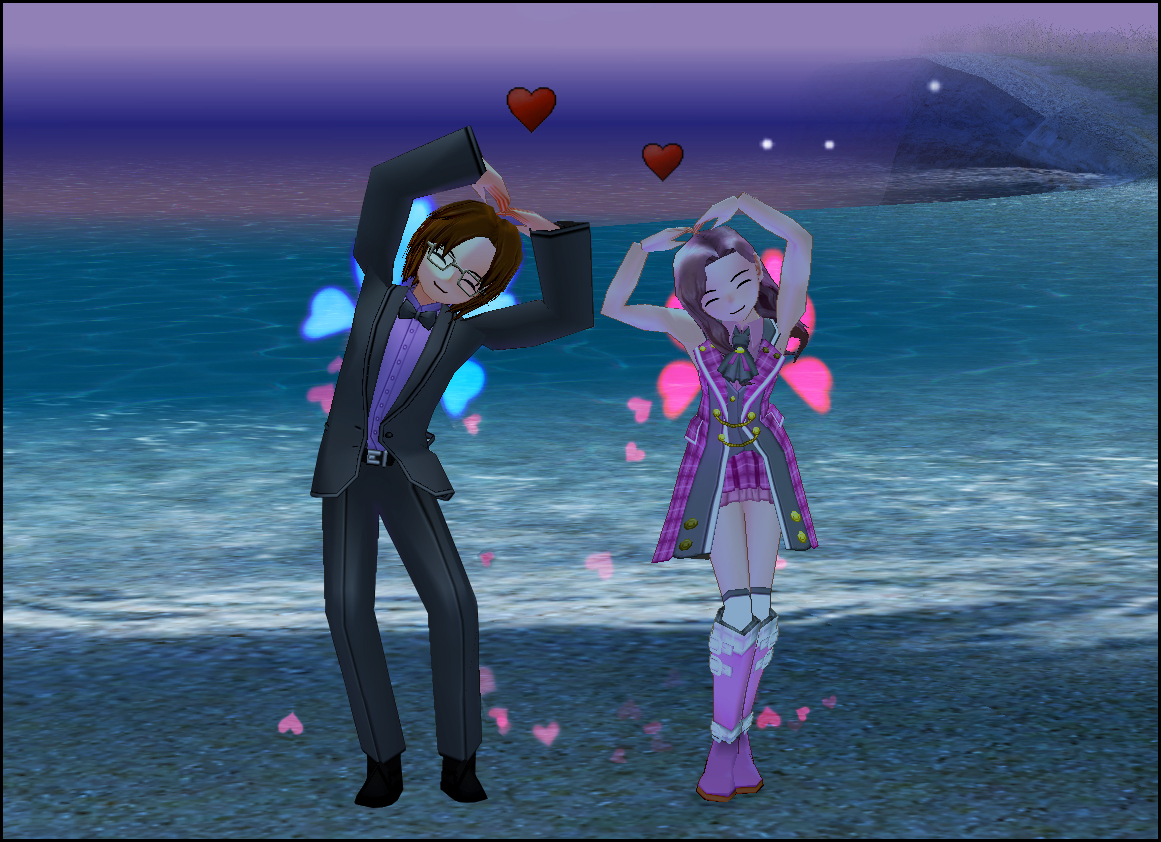 Special Thanks
So what do you think about Doki Doki Island? Mabinogi is a vibrant community that's as strong as a beating heart, and we always want to hear from you. So have a good time and once you've gotten a taste, give us your impressions in the official forum thread.