[UPDATED] Catching Tails Event
ANNOUNCE
11/3/2015 12:00:00 AM

UPDATE: Good news! We're extending the Catching Tails another week to give you an even better chance of getting all the rewards you can, including the Sheep Sonata Set! Catching Tails Joe will be sticking around through Tuesday, Dec. 1, so get in that dungeon while you can!
---
When delving deep into dungeons, caution is usually the best policy. Planning out your attacks, scouting the opponents and striking once necessary. Effective... but who has time for all of that? The Catching Tails event is a Dungeon-Crawling version of Tag, pitting two players or two teams of three against each other. The first to clear dungeon rooms fast enough to catch their opponent wins both bragging rights and prizes!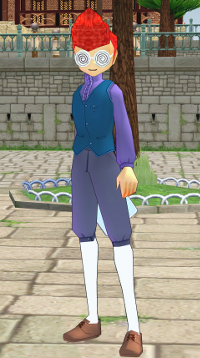 Catching Tails Joe
Catching Tails Event
Event Dates: Wednesday, Nov. 4 -  Tuesday, Dec. 1
How to Participate
Talk to Catching Tails Joe to get the daily quest and select a main character to use.
You can choose to participate in a 1v1 or 3v3 match, and once a mode is selected Catching Tails Joe will place you in a Matchmaking Queue.
The Catching Tails Dungeon is an RP Dungeon, where instead of using your normal skills, you will be prompted to select a Talent (Archery, Magic or Combat) that will define your skills for the dungeon.
Each team will move through the ring of dungeon rooms counter-clockwise, each team chasing the other. Clear the room faster to catch up to your opponents and drop traps looted from monsters to slow a pursuing team down.
If you can catch up to the other team before time expires, you'll win, earning double the rewards of the losing team.
Event Rewards
Trade in Infinite Dungeon Mini Coins to Catching Tails Joe for the following rewards
5x Infinite Dungeon Mini Coins: Infinite Dungeon Fortune Box

An Infinite Dungeon Fortune Box is also rewarded after completing the Daily Quest for the Catching Tails Event

49x Infinite Dungeon Mini Coins: Sheep Sonata Headband (Male or Female)
49x Infinite Dungeon Mini Coins: Sheep Sonata Boots (Male or Female)
99x Infinite Dungeon Mini Coins: Sheep Sonata Outfit (Male or Female)
Infinite Dungeon Fortune Box Rewards
Fortune Box will reward one of the following items:
Sheep Sonata Outfit (Male or Female)
Sheep Sonata Hat (Male or Female)
Sheep Sonata Boots (Male or Female)
Red Upgrade Stone (7 Days)
Blue Upgrade Stone (7 Days)
Likability Potion
Height Potion (30 Days)

Tin Potion
Nao Soul Stone (7 Days)
Diamond (5cm)
Topaz (5cm)
Star Sapphire (5cm)
Emerald (5cm)
Aquamarine (5cm)
Garnet (5cm)
Jasper (5cm)
Ruby (5cm)
Spinel (5cm)
Combo Card Summons (Limited)
Infinite Dungeon Entry Pass