Whack-A-Watermelon Event
ANNOUNCE
8/24/2016 12:00:00 AM

Hit the beach at Port Qill or the southern shore of Longa Desert and grab your whacking stick! Watermelons are somehow appearing all along the beaches there, rising up from the sand seemingly by magic. This could be the start of a dastardly, villainous plot... but who cares? These Watermelons are filled with tons of goodies, including outfits, Blacksmith Manuals, Potions and more, so join in on the juicy mayhem!
---
Whack-A-Watermelon Event
Event Dates: Wednesday, August 24 – Wednesday, September 14
Event Details:
Watermelons have invaded the shores south of Port Qilla and the southern shore of Longa Desert
Watermelons spawn every 15-20 minutes
Travel to these two locations to see the planting of their scheming seeds
Grab your most trusted blunt weapon and get smashing
Destroy as many watermelons as you can, and claim your prizes from the pummeled produce! Just be careful, because some watermelons hide a nasty surprise...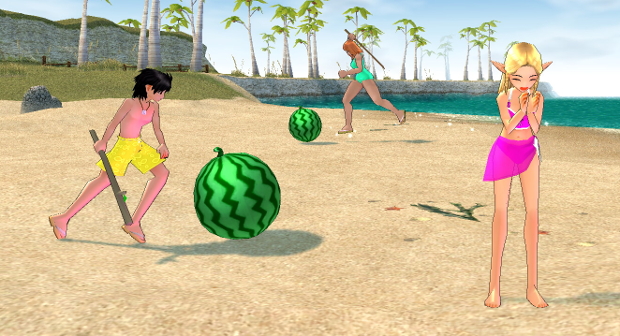 Event Rewards:
Destroy watermelons and gather the items below from their loot!
Ruyuefeixue's Butterfly Fan Repair Kit
Broken Ruyuefeixue's Butterfly Fan
Japanese Traditional Clothing (F)
Japanese Traditional Clothing (M)
Yukata (F)
Yukata (M)
Classic School Swimsuit (F)
Modern School Swimsuit (F)
School Swimsuit (M)
Swim Trunks (M)
Swimsuit (F)
Japanese Fan
Japanese Festival Fan
Japanese Sandals
Droopy Eye Glasses
Blacksmith Manual - Katana
Blacksmith Manual - Masamune
Blacksmith Manual - Muramasa
Blacksmith Manual - Tanto
Blacksmith Manual - Wakizashi
Blacksmith Manual - Yoshimitsu
Watermelon Mini-Gem
Lemon Shaved Ice
Orange Shaved Ice
Strawberry Shaved Ice
Watermelon Shaved Ice
HP & MP 300 Potion
HP & Stamina 300 Potion
Wound Remedy 300 Potion
HP 300 Potion
MP 300 Potion
Stamina 300 Potion