MapleStory + Mabinogi Event
ANNOUNCE
9/15/2016 5:33:11 PM

The MapleStory + Mabinogi Event is back! Last year's classic crossover with our friends over at MapleStory are back for another round of fun! With new Homestead Props and a new buddy that loves Erinn so much he feels like sticking around, there's plenty for everyone to work for!
---
MapleStory + Mabinogi Event
Event Dates: Wednesday, September 21 – Wednesday, October 12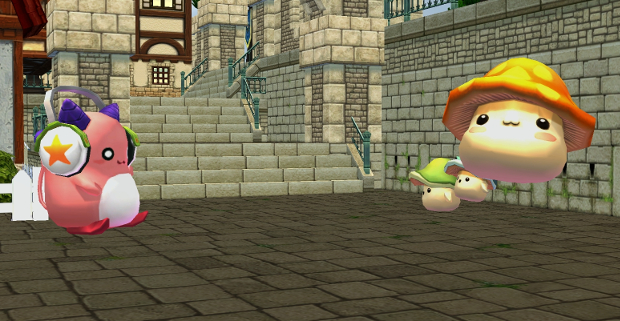 Event Details:
Speak to the NPC Mushmom in Dunbarton to register a character for the event. Be sure to say hi to the visiting Maplestory characters!
Select a baby Maplestory character to adopt and help grow
Every real-time day, you'll receive 6 Happy Essences that can be given to the baby to help it grow
Every 1 hour of real time, an additional Happy Essence will be delivered as well
One the baby is fully grown, bring it back to the Mushmom and collect your rewards including 60,000 EXP, 10,000 Gold, an AP 5 Potion and a Mushking Empire Gift Box!
Speak to the Mushmom again to get a new baby to grow! You can turn in a fully grown baby one a real-time day
Complete the quest six times to receive the brand-new Pink Bean Homestead Prop!
Please note: unused Happy Essences will be deleted every morning at 7 AM
Pink Bean Details:
Place the Pink Bean in your Homestead will allow you to claim a new Daily Quest, as you entertain a new buddy that's decided to stick around in Erinn
Complete Pink Beans daily quest to receive 80,000 EXP!
Quest will remain available even after the Maplestory x Mabinogi Event ends!
Mushking Empire Gift Box Contents
Each Mushking Empire Gift Box contains one of the below items, selected randomly:
Giant Yeti Chair
Giant King Pepe Chair
Mushroom Friend Chair
Pink Bean Chair *NEW*
Pink Bean's Headset *NEW*
Orange Mushroom Figure *NEW*
Horny Mushroom Figure *NEW*
Green Mushroom Figure *NEW*
Yeti Figure *NEW*
King Pepe Figure *NEW*
Blue Upgrade Stone (7 Days)
Red Upgrade Stone (7 Days)
Various Jewels (5-10cm)
Various Free Repair Kits (7 days)
Various Potions (x5)
Various Double Skill EXP Potions
---
MapleStory x Mabinogi Hot Weekends
Event Details:
Login to Mabinogi during the following days to receive a Weekend Happy Essence, which can be used to grow your little buddy at a better rate than the normal Happy Essences!


Saturday, Sept. 24
Sunday, Sept. 25


Saturday, Oct. 1
Sunday, Oct. 2


Saturday, Oct. 8
Sunday, Oct. 9