Winter Fishing Event
EVENTS
1/2/2018 4:07:21 PM

Something fishy is going on in Physis. Travel to the Reus River to find Jan and his pal trying to fish for some smelt. They'll give you some bait and quests that will smelt you away. Check out the fishy details here!
---
Winter Fishing Event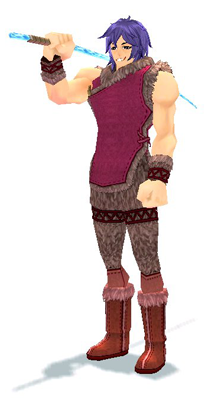 Event Dates: Thursday, Jan. 18 -  Wednesday, Feb. 7
Event Details:
Head on down to Physis to find Jan and his pal for our new fishing event.
Upon log in you will receive a guide quest, Jan's Request. Once this quest is completed, every other character on the account will no longer have this quest.
Jan can be found next to the Reus River Mana Tunnel.
Talk to Jan to register a main character.
Once a character is registered, that character will receive a Snowfield L-Rod (Event) and a stack of Glacier Smelt Bait Feeder (Event).
Use the Snowfield L-rods to find fishing holes along the river.
Bring Jan some Glacier Smelts to receive rewards depending on the amount you bring him. Please be aware the Phishy Phobia in Physis quest must be in progress to receive the rewards.
To get more bait complete the daily quest , "Be the One Who Smelt it and Dealt It."
To create a fishing hole in the river, human and elves must use Snowfield L-rods. However, Giants can use Stomp to open one.
You will receive 100 bait each day for logging in on the character you registered as a main character.
Bait will be received the day after you register a main character.
Hot Days Details:
Log in on the listed days below to be able to receive 70x Iceberg Smelt Bait Feeder. You must re-log, or change channels for the hot days.
Saturday, January 20th
Sunday, January 21st
Saturday, January 27th
Sunday, January 28th
Saturday, February 3rd
Sunday, February 4th
Old Fish Trap Reward List:
Black Bag (10x17) Coupon
Diet Potion U
Diet Potion L
Diet Potion F
White Bear Hat (M)
White Bear Hat (F)
Diamond 10cm
Star Sapphire 10cm
Topaz 10cm
Emerald 10cm
Aquamarine 10cm
Garnet 10cm
Jasper 10cm
Ruby 10cm
Spinel 10cm
Special Arrow Bundle (500 Arrows)
Common Gem Powder
Fine Gem Powder
Party Phoenix Feather (Event) (7 Days)
Special High Speed Gathering Potion (Event) (7 Days)
Speed Walk Potion 40% (10 min) (Event) (7 Days)
HP Buff Potion (Event) (7 Days)
MP Buff Potion (Event) (7 Days)
Stamina Buff Potion (Event) (7 Days)
Protection/DEF Buff Potion (Event) (7 Days)
Special Tendering Potion (Event) (7 Days)
Special Tendering Potion S (Event) (7 Days)
Production Failure Potion (Event) (7 Days)
Potion of Proficiency (Event) (7 Days)
HP 50 Potion
HP 100 Potion
HP 300 Potion
MP 50 Potion
MP 100 Potion
MP 300 Potion
Stamina 50 Potion
Stamina 100 Potion
Stamina 300 Potion
HP & MP 50 Potion
HP & MP 100 Potion
HP & MP 300 Potion
HP & Stamina 50 Potion
HP & Stamina 100 Potion
HP & Stamina 300 Potion
HP 300 Potion SE
MP 300 Potion SE
Stamina 300 Potion SE
Wound Remedy 300 Potion SE
Base Herb
Garbage Herb
Firewood
Mana Herb
Cheap Silk
Common Silk
Fine Silk
Finest Silk
Cheap Fabric
Common Fabric
Fine Fabric
Finest Fabric
Cheap Leather
Common Leather
Fine Leather
Finest Leather
Cheap Leather Strap
Common Leather Strap
Fine Leather Strap
Finest Leather Strap
Diamond 5cm
Star Sapphire 5cm
Topaz 5cm
Emerald 5cm
Aquamarine 5cm
Garnet 5cm
Jasper 5cm
Ruby 5cm
Spinel 5cm
Advanced Phoenix Feather
Homestead Eggplant Seed
Homestead Strawberry Seed
Homestead Pumpkin Seed
Homestead Cabbage Seed
Homestead Tomato Seed
Phishy Phobia in Physis Rewards:
Bring 30 Glacier Smelts - Golden Experience Fruit (500%)(Quantity: 2)
Bring 50 Glacier Smelts - Ice Fishing Rod
Bring 90 Glacier Smelts - Ice Fisher 2nd Title Coupon (Increases automatic fishing success rate and increases chances of catching bigger fish.
Bring 130 Glacier Smelts - Igloo Fishing Chair