Lovely Cupid Box
ANNOUNCE
4/5/2018 12:00:00 AM

Love is in the air thanks to the new Lovely Cupid Box. With this lovely box, you can possibly get a piece of the Lovely Cupid set, new skill training potions, or even Lovely Cupid Wings! Check out the full details here.
---
Lovely Cupid Box
Sale Dates:
Thursday, April 5, After Maintenance - Thursday, April 26, Before Maintenance
---
Item Details:
When you open a Lovely Cupid Box, you will receive a Baltane Mission Crystal (x1.5, x2, or x3) and a random item from the lists below.
New Items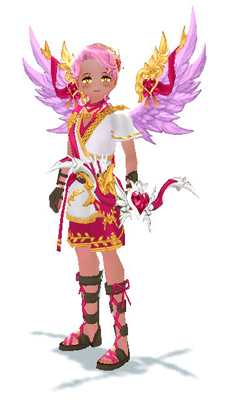 (Stats: Min Damage +25, Max Damage +25, Luck +25, and Speed +3%)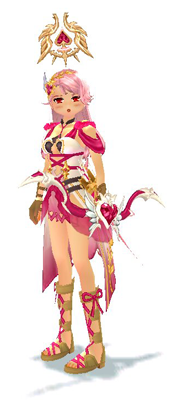 Lovely Cupid Dye Ampoule Set (Hexes: #E2427E, #F992B9, #C31653, #FAB350, #FFAAAA, #E2427E [Metal], #C31653 [Metal], #F992B9 [Metal], #FFAAAA [Metal], #FAB350 [Metal])
Uaithne (Exquisite)
Goblet of Truth (Exquisite)
Wave Sweeper (Exquisite)
Perfect Free Repair Kit (Falias Relic)
Music Buff Potion (30 minutes) (Quantity: 5)
Speed Walk Potion 40% (30 minutes)
Doppleganger Skill EXP Potion
Combo: Counter Punch Skill EXP Potion
Charge Training Potion
Lance Counter Training Potion
Lance Charge Training Potion
Rage Impact Training Potion
Evasion Training Potion
Life Drain Training Potion
Elite Pass - Stones of Sliab Cuilin (Tradable)
Elite Pass - Conflict! An Unexpected Battle (Tradable)
Elite Pass - Defeat the Shadow Warrior (Tradable)
Elite Pass - Battle for Taillteann II (Tradable)
Elite Pass - Battle for Taillteann I (Tradable)
Elite Pass - Rescue the Scout (Tradable)
Elite Pass - Offering (Tradable)
Elite Pass - Defeat Fomor Commander I (Tradable)
Elite Pass - Defeat Fomor Commander II (Tradable)
Elite Pass - Defeat the Shadow Wizard (Tradable)
Elite Pass - Taillteann Defensive Battle (Tradable)
Elite Pass - Dorren's Request (Tradable)
Elite Pass - Mobilizing the Expeditionary Force (Tradable)
Elite Pass - Shadow Cast City (Tradable)

Elite Pass - Enemy Behind (Tradable)
Elite Pass - Their Method (Tradable)
Elite Pass - Lingering Darkness (Tradable)
Elite Pass - The Sulfur Spider inside Shadow Realm (Tradable)
Elite Pass - Fomor Attack (Tradable)
Elite Pass - The Other Alchemists (Tradable)
Elite Pass - Ghost of Partholon (Tradable)
Elite Pass - Defeat Crag Cow (Tradable)
Homestead Golden Sprout (Quantity: 5)
Additional Items
Black Bag (10x17) Coupon
Mysterious Robe
Holy Eagle Mask
Detective Outfit (M)
Detective Outfit (F)
Monochromatic White Pack
Monochromatic Black Pack
Combat 4x EXP Potion (30 min)
Lucky Blue Upgrade Stone
Lucky Red Upgrade Stone
Fishing Training Potion
Chocolate Cookie Wand Appearance Scroll
Strawberry Cookie Wand Appearance Scroll
Vanilla Cookie Wand Appearance Scroll
Green Tea Cookie Wand Appearance Scroll
Sewing Pattern (Rosemary Gloves)
Royal Prince Armor (Reforging: Rank 1, Enchant: Basic/Avenger)
Royal Princess Armor (Reforging: Rank 1, Enchant: Basic/Avenger)
Royal Prince Gauntlets (Reforging: Rank 1, Enchant: Expansive/Elegant)
Royal Princess Gauntlets (Reforging: Rank 1, Enchant: Expansive/Elegant)

Royal Prince Boots (Reforging: Rank 1, Enchant: Fleet/Elegant)
Royal Princess Boots (Reforging: Rank 1, Enchant: Fleet/Elegant)
Royal Prince Circlet (Reforging: Rank 1, Enchant: Vine/Dexterity)
Royal Princess Circlet (Reforging: Rank 1, Enchant: Vine/Dexterity)
Crusader 2x EXP Potion (30 min)
Finest Shadow Crystal (Quantity: 10)
Unrestricted Dungeon Pass
Unlimited Shadow Mission Pass
Partner Likability Increase Candy (30)
Direct Dye Ampoule
Direct Pet Dye Ampoule
Direct Magical Instrument Dye
Direct Metal Dye Ampoule
Red Collar of Health (Pet)
Blue Collar of Mana (Pet)
Yellow Collar of Stamina (Pet)
Luxe Pink Collar(Pet)
Celtic Cross (Enchants: Dependable/Theatrical, Light/Archer's, Surprising/Tempest)
Essence of Phoenix (Quantity: 10)
Colorful Kite Balloon (5 uses)
Frozen Heart Balloon (5 uses)
Flash Launcher Training Potion
Grapple Shot Training Potion
Bullet Slide Training Potion
Shooting Rush Training Potion
Bullet Storm Training Potion
Reload Training Potion
Way of the Gun Training Potion