[UPDATE] Vanguard & Assault Supply Box
ANNOUNCE
7/25/2018 5:59:44 PM

Hack and slash through zombies in style with the new Vanguard & Assault Supply Box! Open one up to have a chance to receive the Vanguard Uniform, Assault Uniform, Stance Cards, or even a Chainsaw! Check out the full details here!
---
Vanguard & Assault Supply Box
Sale Dates:
Thursday, August 23, After Maintenance - Thursday, September 20, Before Maintenance
---
Item Details:
When you open a Vanguard & Assault Supply Box, you will receive a Free Repair Kit Set and a random item from the list blow. The new Stance Cards will change the pose for normal and combat mode for the respective weapon! Regular Occupation Titles only give Luck +10. All Appearance Scrolls do not have the pose of the original weapon.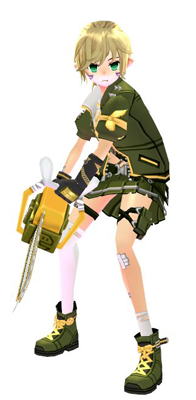 New Items


Chainsaw Appearance Scroll (No Pose)
Nail Bat Appearance Scroll (No Pose)
Crowbar Appearance Scroll (No Pose)
Assault Crossbow Appearance Scroll (No Pose)
Additional Items
Battle School Eye Patch (F)
Battle School Uniform (F)
Battle School Bag (F)
Battle School Boots (F)
Battle School Gloves (F)
Battle School Uniform (M)
Battle School Mask (M)
Battle School Bag (M)
Battle School Boots (M)
Battle School Gloves (M)
Talent Reset Capsule

Brass Grandmaster Certificate
Pan's Goldbox Upgrade Coupon
Lorna's Goldbox Upgrade Coupon
Lucky Blue Upgrade Stone
Lucky Red Upgrade Stone
Smart Student Uniform (M)
Smart Student Uniform (F)
Smart Student Slip-ons (M)
Smart Student Boots (F)
Elite Student Shoes (M)
Elite Student Shoes (F)
Elite Student Uniform (M)
Elite Student Uniform (F)
Portia's Costume (G15)
Portia's Costume (Female Giants)
Shylock's Costume (G15)
Shylock's Costume (Male Giants)
Spirit Digestive Elixir
Crystal Hammer of Durability
Lorna's Special Gold Coin Box
Pan's Special Gold Coin Box
Transparent Hat
Transparent Shoes
Transparent Gloves
Defense Gesture Card
Chat Gesture Card
Battle Cry Gesture Card
Antsy Gesture Card
Bored Gesture Card
Blush Gesture Card
Stern Gesture Card
Ahem Gesture Card
Yearning Gesture Card
Headache Gesture Card

Sleeve Gesture Card
Camera Gesture Card
Study Gesture Card
Unrestricted Dungeon Pass
Unlimited Shadow Mission Pass
New Semester School Uniform (M)
New Semester School Uniform (F)
New Semester School Shoes (M)
New Semester School Shoes (F)
After School Uniform (M)
After School Uniform (F)
After School Shoes (M)
After School Shoes (F)
After School Wrist Guard
After School Bracelet
Shadow Cloak Training Potion
Smokescreen Training Potion
Sakura Abyss Training Potion
Shuriken Mastery Training Potion
Shuriken Charge Training Potion
Kunai Storm Training Potion
Shadow Bind Training Potion
Explosive Kunai Training Potion
Royal Academy Hat
Royal Academy Hat (F)
Royal Academy Hat (M)
Royal Academy Messenger Bag
Royal Academy Vintage Backpack
Cross Empire Sword Appearance Scroll
Cross Empire Great Blade Appearance Scroll
Cross Empire Gale Cylinder Appearance Scroll
Cross Empire Shield Appearance Scroll
Cross Empire Dual Gun Appearance Scroll
Lorna's Goldbox
Pan's Goldbox
Name/Chat Fixed Color Change Potion (Hex: #FFFF00, #FFFFFF, #76E5EC, #FFAAAA, #DB7093, #A6FF4D, or #F1997A)
Fixed Color Dye Ampoule (Hex: #434B23, #DDDBD6, #FFCC66, #223483, #2D2D31, or #847461)