The Magical Bingo Gachapon is back!
ANNOUNCE
8/15/2018 6:06:47 PM

Do you feel lucky? The Magical Bingo Gachapon is back to put your fortune to the test! Each Gachapon contains a random item, as well as a number for the mystical item on the Magical Bingo game board that can unlock some truly fantastical prizes. Check it all out below.
---
Magical Bingo Gachapon
Sale Dates:Thursday, September 13, After Maintenance - Thursday, October 11, Before Maintenance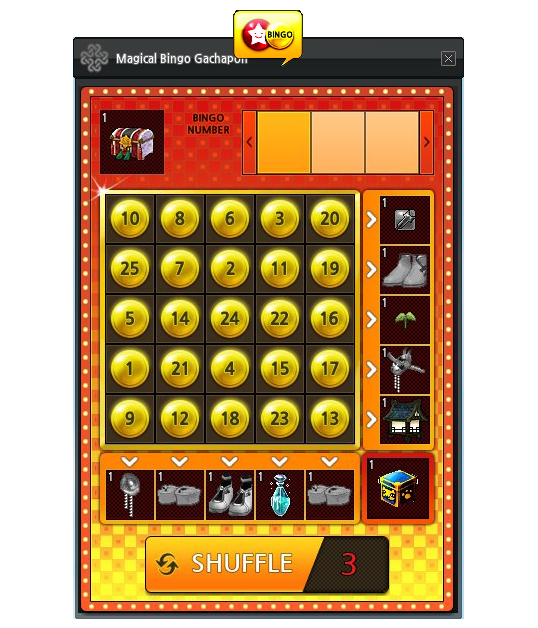 Sale Details:
After purchasing a Magical Bingo Gachapon, click on the icon in the bottom-right corner of the screen to access the Magical Bingo screen
Click on the Magical Bingo Gachapon icon to open the Gachapon. It will reward you with a random item from a massive selection, as well as unlocking a random number on the game board.
Unlock all the numbers in a row or column to get the noted item.
Unlock all the numbers on the board to claim the Bingo Grand Prize Box, letting you choose from twelve different wings!
You can Reset the board, clearing all the numbers and resetting the potential Bingo items. Everyone has 3 resets to start with, additional resets can be purchased for 1 Pon each.
Bingo Grand Prize Box Contents:
Complete your entire board and select your favorite Wings!
Item Details: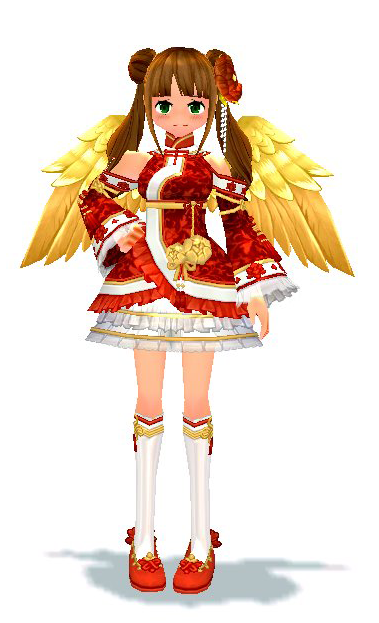 New Items
Additional Items
Cessair Officer Robe
Holy Eagle Mask
Coma Exclusive Enchant Scroll
Amnesia Exclusive Enchant Scroll
Stabbing Exclusive Enchant Scroll
Wave Sweeper
Uaithne
Goblet of Truth
Coco's Bracers
Coco's Heels
Coco's Hairpin

Coco's Mini-Dress
Yukata Mini Mask (M)
Yukata Mini Hair Ornament (F)
Yukata Mini (M)
Yukata Mini (F)
Geta Sandals (M)
Geta Sandals (F)
Otherworldly Hanbok Headpiece (F)
Otherworldly Hanbok Dress (F)
Otherworldly Hanbok Shoes (F)
Otherworldly Hanbok Sleeves (F)
Otherworldly Hanbok Headpiece (M)
Otherworldly Hanbok Suit (M)
Otherworldly Hanbok Shoes (M)
Theatrical Troupe Outfit (M)
Theatrical Troupe Outfit (F)
Shamaness Outfit
Shamaness Hair Band
Shamaness Shoes
Shamaness Gloves
Men's Tengu Outfit
Men's Tengu Hat
Men's Tengu Shoes
Men's Tengu Gloves
Black Dragon Knight's Giant Sword
Krutta Broad Sword
Black Dragon Knight's Bow
Dowra's Golden Gun
Black Star
Cherished Enchant Scroll
Arcane Enchant Scroll
Hawk Enchant Scroll
Spiritual Exclusive Enchant Scroll
Speedy Exclusive Enchant Scroll

Direct Dye Ampoule
Direct Magical Instrument Dye
Direct Pet Dye Ampoule
Music Buff Potion (30 min)
Spirit Digestive Elixir
Katana
Masamune
Wakizashi
Muramasa
Tanto
Yoshimitsu
Theatrical Troupe Shoes (M)
Theatrical Troupe Boots (F)
Theatrical Troupe Mask (M)
Theatrical Troupe Headdress (F)
Essence of Phoenix (Quantity: 10)
Fine Echostone Awakening Stimulant Upgrade Coupon
Spell Book Repair Quill
Dual Gun Mastery Training Potion
Flash Launcher Training Potion
Grapple Shot Training Potion
Bullet Slide Training Potion
Shooting Rush Training Potion
Bullet Storm Training Potion
Reload Training Potion
Way of the Gun Training Potion