Cherry Blossom Box
ANNOUNCE
8/24/2018 4:06:50 PM

Spring is still in the air with the Cherry Blossom Box! Open one up to have a chance to get the Cherry Blossom Dress, Cherry Blossom Wings, Regal Cherry Blossom Halo, or even a Shining Star Staff! Check out the full details here!
---
Cherry Blossom Box
Sale Dates:
Thursday, October 4, After Maintenance - Thursday, October 31, Before Maintenance
---
Item Details:
When you open a Cherry Blossom Box, you will receive a stack of 3 Potent, Fine, or Finest Shadow Crystals and a random item from the list blow.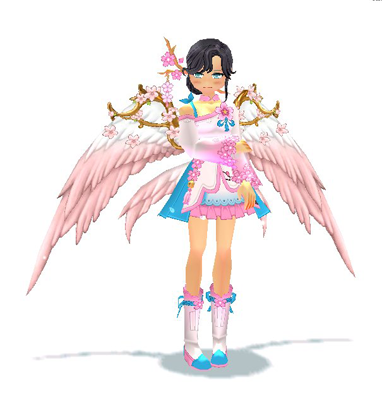 New Items


Shining Star Staff (Trust) Appearance Scroll
Shining Star Harp (Dream) Appearance Scroll
Shining Star Shuriken (Justice) Appearance Scroll
Shining Star Crossbow (Pride) Appearance Scroll
Shining Star Sword (Guard) Appearance Scroll

Monochromatic Pink Cherry Blossom Pack (Hex: #FE93BE)
Monochromatic Hot-Pink Pack (Hex: #FF69B4)
Monochromatic Shining Star Pack (Hex: #EAAB5B)
Additional Items
Imperial Cosmic Prince Suit (M)
Imperial Cosmic Princess Dress (F)
Imperial Cosmic Prince Short Suit (M)
Imperial Cosmic Princess Mini Dress (F)
Cosmic Prince Suit (M)
Cosmic Princess Dress (F)
Cosmic Prince Short Suit (M)
Cosmic Princess Mini Dress (F)
Cosmic Prince Star Gloves (M)
Cosmic Princess Starry Cuffs (F)
Cosmic Prince Shoes (M)
Cosmic Princess Boots (F)
Cosmic Prince Crown (M)
Cosmic Princess Crown (F)
Star Hairpin
Uaithne
Goblet of Truth
Wave Sweeper
Red Javelin
Yellow Javelin
Great Fury Sword
Magic Cauldron
Little Fury Sword
Magic Club
Failinis

Magic Breastplate
Golden Apple
Magic Wand
Golden Chain Armor
Cooking-spit
Melodious Music Box
Milky Way Music Box
Odd Kitty Gloves (M)
Odd Kitty Gloves (F)
Odd Kitty Outfit (M)
Odd Kitty Outfit (F)
Odd Kitty Shoes (M)
Odd Kitty Shoes (F)
Odd Kitty Head (M)
Odd Kitty Head (F)
Glamour Dress (F)
Illusion Suit (M)
Illusion Headpiece (M)
Glamour Beret (F)
Illusion Gloves (M)
Glamour Pumps (F)
Illusion Shoes (M)
Idol Plaid Outfit (F)
Idol Plaid Outfit (M)
Idol Plaid Gloves
Idol Plaid Hat (F)
Idol Plaid Hat (M)
Idol Plaid Shoes (F)
Idol Plaid Shoes (M)
Evasion Training Potion
Charge Training Potion
Lance Counter Training Potion
Lance Charge Training Potion
Doppelganger Skill Training Potion

Luna Crystal Staff Appearance Scroll
Andris Wing Staff Appearance Scroll
Ladeca Short Sword Appearance Scroll
Star Candy Mace Appearance Scroll
Toy Hammer Appearance Scroll
Smiley Knuckles Appearance Scroll
Platinum Hammer of Durability
Lucky Red Upgrade Stone
Ring Torque (Enchant: Transparent/Tidal)(Reforge: Rank 1)
Ring (Enchant: Transparent/Tidal)(Reforge: Rank 1)
Celtic Cross (Enchant: Transparent/Tidal)(Reforge: Rank 1)
Ring Torque (Enchant: Resplendent/Cosmos)(Reforge: Rank 2)
Ring (Enchant: Dependable/Theatrical)(Reforge: Rank 2)
Celtic Cross (Enchant: Light/Bowman's)(Reforge: Rank 2)
Ring Torque (Enchant: Dependable/Tempest)(Reforge: Rank 2)
Ring (Enchant: Surprising/Tempest)(Reforge: Rank 2)
Celtic Cross (Enchant: Stout/Tempest)(Reforge: Rank 2)
Ring Torque (Enchant: Surprising/Cornflower)(Reforge: Rank 1)
Ring (Enchant: Stout/Earthquake)(Reforge: Rank 1)
Celtic Cross (Enchant: Precise/Lilly)(Reforge: Rank 1)
Illusion Rod
Serenity Rod
Lorna's Goldbox
Pan's Goldbox
Dorcha Mastery Training Potion
Chain Blade Mastery Training Potion
Dorcha Snatch Training Potion
Raging Spike Training Potion
Chain Sweep Training Potion
Dorcha Conversion Training Potion
Chain Burst Training Potion
Bachram Explosion Training Potion
Shadow Cloak Training Potion
Smokescreen Training Potion
Sakura Abyss Training Potion
Shuriken Mastery Training Potion
Shuriken Charge Training Potion
Kunai Storm Training Potion
Shadow Bind Training Potion
Explosive Kunai Training Potion
Focused White Beam Sword
Focused Green Beam Sword
Focused Red Beam Sword
Focused Blue Beam Sword
Focused Rainbow Beam Sword
Red Upgrade Stone