Noblesse Deity Box
ANNOUNCE
10/15/2018 3:35:10 PM

Become a noble deity with the Noblesse Deity Box! Open one up to have a chance to receive the Noblesse Deity Special Wear, Elegant Deity Wings, or even a Dreamer's Cloud Bed. Check out the full details below!
---
Noblesse Deity Box
Sale Dates:
Thursday, November 1, After Maintenance - Thursday, November 29, Before Maintenance
---
Item Details:
When you open a Noblesse Deity Box, you will receive a Golden Experience Fruit (300%) and a random item from the list below.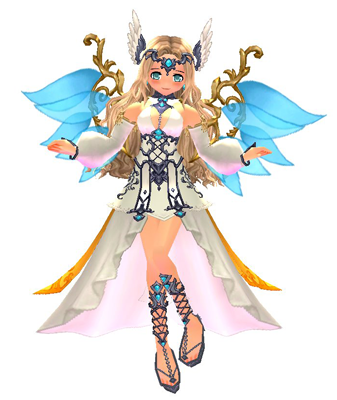 New Items



Green Prism Box (Double Pet Combat EXP)
Red Prism Box (Double Quest Completion EXP)
Purple Prism Box (Double Crusader EXP)
Crusader 2x EXP Potion (1 Day)(Quantity: 2)
Noblesse Deity Outfit Dye Ampoule Set
Additional Items
Uaithne
Goblet of Truth
Ice Forest Throne
Dead Forest Throne
Ring Torque (Enchant: Trustworthy)
Ring (Enchant: Haggler)
Celtic Cross (Enchant: Trader)
Symbolic Enchant Scroll
Shelter Enchant Scroll
Black Fog Enchant Scroll

Winter Princess Dress
Winter Prince Suit
Winter Princess Bracelet
Winter Prince Gloves
Winter Princess Boots
Winter Prince Shoes
Winter Princess Coronet
Winter Prince Wreath
Astrologer Outfit (M)
Astrologer Outfit (F)
Astrologer Gloves (F)
Astrologer Long Boots (M)
Astrologer Ankle Boots (F)
Perfect Free Repair Kit (Falias Relic)
Brass Grandmaster Certificate
Monochromatic Red Pack (Hex: #c00000)
Monochromatic Pink Pack (Hex: #F095AA)
Monochromatic Gold Pack (Hex: #EEB233)
Monochromatic Yellow Pack (Hex: #ffff00)
Monochromatic Shining Star Pack (Hex: #EAAB5B)
Crusader 2x EXP Potion (30 min)(Quantity: 5)
Unrestricted Dungeon Pass
Unlimited Shadow Mission Pass
Divine Magic Powder (Quantity: 3)
Ancient Magic Powder (Quantity: 3)
Rusty Hammer of Proficiency
Platinum Hammer of Durability
Homestead Golden Sprout (Quantity: 5)
Chain Impale Training Potion
Spinning Slasher Training Potion
Chain Crush Training Potion
Anchor Rush Training Potion
Death Mark Training Potion

Lorna's Special Gold Coin Box
Pan's Special Gold Coin Box
Lorna's Goldbox
Pan's Goldbox
Lorna's Goldbox Upgrade Coupon
Pan's Goldbox Upgrade Coupon
Speed Walk Potion 40% (30 min)
Essence of Phoenix (Quantity: 10)
Dorcha Mastery Training Potion
Chain Blade Mastery Training Potion
Dorcha Snatch Training Potion
Raging Spike Training Potion
Chain Sweep Training Potion
Dorcha Conversion Training Potion
Chain Burst Training Potion
Bachram Explosion Training Potion
Life 2x EXP Potion (1 Day)
Magic 2x EXP Potion (1 Day)
Close Combat 2x EXP Potion (1 Day)
Music 2x EXP Potion (1 Day)
Alchemy 2x EXP Potion (1 Day)
Martial Arts 2x EXP Potion (1 Day)
Dual Gun 2x EXP Potion (1 Day)
Puppetry 2x EXP Potion (1 Day)
Ninja 2x EXP Potion (1 Day)
Chain Slash 2x EXP Potion (1 Day)