[UPDATE][EXTENDED] Pillow Fight!
EVENTS
5/13/2014 10:41:41 AM

---
ATTENTION!
Bear Pajamas, Bear Slippers, and Frilly Nightgowns should
not
be locked to your Style tab! This was an internal error which we are rectifying in the following way:
We've extended the Pillow Fight event 1 week. The last day of the event will be June 10.
All Style tab versions of the items will be replaced with unlocked versions of a random color.
This exchange will occur during a regularly scheduled maintenance. More info on the date of this exchange will be provided as it is available.
We sincerely apologize for all inconvenience and hope the above compensation is satisfactory.
- The Mabinogi Team
---
This monster melee event is guaranteed to be a fluffy free-for-all. Knock-em, sock-em, and gather up as many White Pillow Feathers as you can - they're your ticket to earning exclusive bedtime-themed rewards.
Event Dates: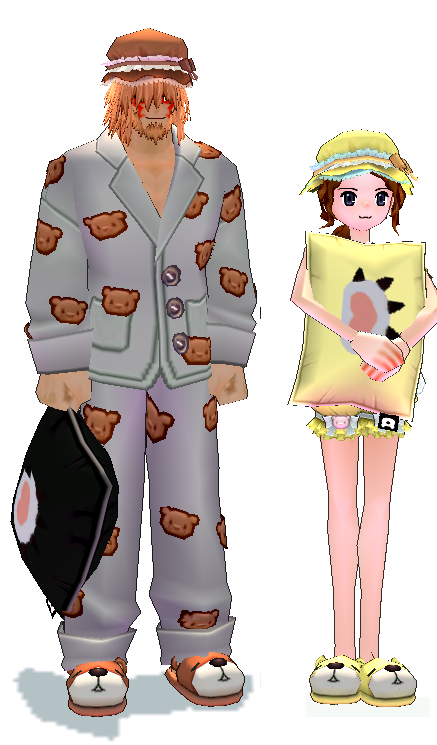 Wednesday, May 21 - Tuesday, June 3 (2 weeks)
Event Details:
Speak to Pillow Master Jeff at the Dunbarton Bell Tower to get your very own Play Pillow.
Every Erinn evening at 7:00 PM, an alert will direct you to the location of the Pillow Fight.
Flock to the fields and beat back as many baddies as you can! Each monster drops at least 1 White Pillow Feather upon defeat.
Redeem 10 White Pillow Feathers with Gift Exchanger Kaylinn for a Pillow Fight Gift Box, which could contain...

Bear Pillow or Play Pillow weapon
Bear Pajamas or Frilly Nightgown
Bear Slippers
Iris Nightcap
and more!
There's a pillow-fighter in all of us. Unleash yours and take part in some sleepy fun!