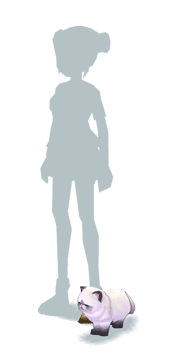 These soft, fluffy cats have short legs, stubby tails, and plump bodies in lovely shades of grayish pink. They're so disproportionately built that they're irresistible!
Now, their faces may not always be the friendliest—in fact, most of the time they look angry or bored, but these creatures are loyal to the core! Just take them into battle, and you'll see how quickly and efficiently they respond to your orders.
With a Himalayan at your side, you'll definitely stand out! No one can resist the glare of these cuddly felines. They also increase their masters' HP, Luck, and maximum damage!
Himalayans may not seem like the obvious choice for a pet, but give them a chance. With time, you'll earn their trust. In return, they'll charm you with the secret affection that they try so hard to hide!
Available Skills
Defense
Smash
Counter Attack
Combat Mastery
Critical Hit
Rest
Healing
First Aid
Fire Bolt
Ice Bolt
Lightning Bolt
Summoning Time 108 min / HP 68 / MP 38 / Stamina 38 / Strength 31 / Intelligence 26 / Dexterity 20 / Will 34 / Luck 24 / Inventory Size 5 x 9