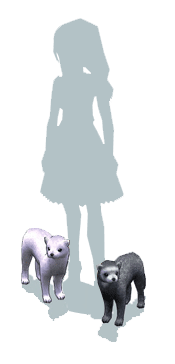 Black and White Ferret
Grows stronger when near a White Ferret or Black Ferret in the same party.
Inventory Size: 4 x 6
Ferrets possess long bodies and short legs. In many ways, they resemble a weasel with long fur. From a distance, they may look like a black or white weasels. But once you see their innocent faces, you will find that they have a charming demeanor, unlike the wild weasel. The Black and White Ferrets' disposition is almost dog-like in their loyalty to their masters.
Ferrets are intelligent, able to express their emotions through the noises they make and their facial expressions. However, they are also a jealous animals. A ferret will display a sort of boastfulness about its intelligence, not only to its owner but to the other animals around it.
Maybe that's why magic comes so easily to the ferret. As an animal with high base Intelligence and Mana, it can even learn the difficult Lightning Bolt skill. Many pet owners choose to have a ferret because of the ferret's loyalty. The ferret will quickly come to its owner's side when its owner is in danger.
It's worth noting that a ferret becomes intensely jealous of anything that captures its owner's attention.
Rumor has it that when the Black Ferret and the White Ferret work together in a party, they gain a great boost to their Mana, Intelligence, and Dexterity. These rumors have been confirmed to be true in Erinn, and the ferrets' ability to work through their rivalry proves their affection for their owners.
They say that the White Ferret may be a bit smarter than the Black Ferret. Still, the Black Ferret starts out strong, and it takes some time for the White Ferret's skills to catch up.
Ferrets are currently only available through a package.
Black Ferret Available Skills
Rest
Defense
Smash: Available at animal level 3 or higher.
Counterattack: Available at animal level 4 or higher.
Combat Mastery
Critical Hit
Healing: Available at animal level 3 or higher.
Lightning Bolt: Available at animal level 6 or higher.
First Aid
Summon Time 109 Minutes / Life 50 / MP 46 / Stamina 48 / Strength 27 / Intelligence 34 / Dexterity 22 / Will 12 / Luck 14 / Inventory Size 4 x 6
White Ferret Available Skills
Rest
Defense
Smash: Available at animal level 5 and higher.
Counterattack: Available at animal level 3 and higher.
Combat Mastery
Critical Hit
Healing: Available at animal level 3 and higher.
Lightning Bolt: Available at animal level 6 and higher.
First Aid
Summon Time 109 Minutes / Life 52 / MP 46 / Stamina 46 / Strength 25 / Intelligence 36 / Dexterity 20 / Will 14 / Luck 14 / Inventory Size 4 x 6