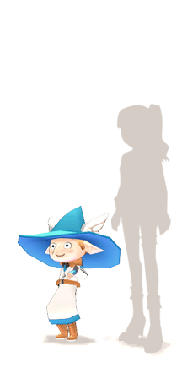 Uses Magic Shield.
Can board Hot Air Balloons and Rafts.
Inventory Size: 6 x 8
Can Teleport to Saved Locations.
Unlike its small, cute appearance,this monster received complaints from many explorers due to its mischievous tone of speech that aggravates people and twisted mind.
The Imp which learned ancient Irinid's magic, Magic Shield, from Chief Kousai of Courcle focused more on magic.
As a result, he was able to use his own unique magic, Warp. It's a useful magic skill where you can remember your owner's location through the Save Location skill, and then move the owner any time, any place to the memorized place through the Pet Teleport skill.
The cute Warp Imp who wears a ridiculously huge magician hat helps the owner's Maximum HP and balance too.
Especially recommended for those who enjoy Rafts and Hot-Air Balloons, as well as exploring throughout Erinn. How about going for an exciting adventure with Warp Imp?
The Warp Imp is highly recommended for anyone who enjoys rafting or riding hot air balloons. Just look at the little guy's earnest expression. He's begging you to give him a home!
Available Skills
Defense
Smash
Counterattack
Combat Mastery
Critical Hit
Rest
Healing
First Aid
Firebolt
Icebolt
Lightning Bolt
Fire Shield
Ice Shield
Lightning Shield
Natural Shield
Save Location
Pet Teleport
Summon Time 112min / HP 72 / MP 38 / Stamina 43 / Strength 24 / Intelligence 31 / Dexterity 26 / Will 23 / Luck 29 / Inventory Size 6 x 8