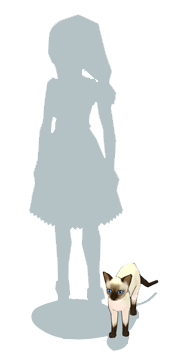 Transforms when owner transforms into a Dark Knight.
Inventory Size : 6 x 7
The Siamese is known as a cat with aristocratic origins, said to have descended from ancient royal courts. Unlike most other cats which tend to have a mind of its own, the Siamese is famous for its charming personality, which has made it one of the most beloved pet cats around.
A long steady look into the Siamese's wet, emerald green eyes makes you feel like you're looking into a well of melted sapphires, so mystical that it is almost chilling. On the other hand, the long, lean legs and elegantly-shaped neck and tail of the Siamese, as well as the chocolate coloring over the cream-colored coat, give off a warmth and softness that is altogether unique to the Siamese.
The Siamese is also known to be one of the most intelligent of all cats, which makes them the fastest learner when it comes to obtaining magic skills. It is also known for its voracious curiosity which tends to make the Siamese a highly accident-prone pet. The Siamese is certainly a highly intelligent and energetic pet but is, as a result, a bit weak when it comes to close-quarters combats. The more time you spend with the Siamese, the more abundance you will notice in your MP. Not only that, you will notice that the effects of the Critical Hit skill is much more easily accessed.
This very lovable and sensitive cat requires a lot of love and care from its owner. The Siamese can be overly sensitive, at times turning into a bundle of nerves. Such a change in mood can sometimes be shocking to its owners, so keep this in mind.
The Siamese is also known for its eyes that continuously change in shape. Because of this characteristic, the Siamese's eyes have been known since ancient times as a mystical embodiment of Eweca's tide, the night and its darkness, the erg of chaos etc. The Siamese is particularly sensitive to the Dark Knights. If/whenever the Siamese's owner is to become a Dark Knight, the Siamese too will be governed by the power of the Dark Knight. The transformation will come undone the moment the Siamese's owner comes undone from his/her transformation.
The Siamese can seem unapproachable at times because of its aloof looks. But the closer you become, the more you will find the Siamese's unique appeal mesmerizing.

Such characteristics in addition to its ability to transform into a Dark Knight, makes the Siamese an ideal pet friend to accompany you through your journey.

Available Skills
Rest
Combat Mastery
Critical Hit
Defense
Smash
Counterattack
Healing
Ice Bolt
Lightning Bolt
First Aid
Summon Time 106 Minutes / Life 60 / MP 48 / Stamina 58 / Strength 26 / Intelligence 30 / Dexterity 22 / Will 30 / Luck 18 / Inventory Size 6 x 7
Depending on the owner's Dark Knight skills, the Bombay's stats will also improve correspondingly in accordance with the following:
Soul of Chaos : Life/MP/Stamina
Body of Chaos : Strength/Balance
Hands of Chaos : Dexterity/Injury Rate
Mind of Chaos : Intelligence/Critical Hit