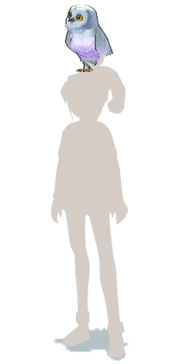 Able to sit on its master's head
Picks up items with the "Fetch!" command
Inventory Size: 7 x 9
Since ancient times, the owl has been regarded as a wise and clever bird. Perhaps, that is why people have always shared such a close rapport with the Snowy Owls of Erinn.
The Snowy Owl features many special abilities. For instance, the Snowy Owl can sit on top of its master's head. Depending on the movement of its master, the owl will display various actions such as nodding its head as it drifts in and out of sleep or flapping its wings in excitement. Also, at the simple command of "Fetch!" the Snowy Owl will soar away and bring back something useful for its master. What's more, the Snowy Owl is famous for having keen eyesight, even in pitch darkness!
As an owner, you would benefit from vital stats such as Max HP and MP, and Critical. In addition, the Snowy Owl has a good-sized inventory.
With its curious round eyes and cream-colored wings, the owl perfectly matches the mysterious feel of the Eweca shining in the night's sky. Enhance your unique Fantasy Life with your own personal Snowy Owl!
Available Skills
Rest
Defense
Smash
Counter Attack
Combat Mastery
Critical Hit
Healing
First Aid
Fire Bolt
Ice Bolt
Lightning Bolt
Summoning Time 97min / HP 47 / MP 46 / Stamina 54 / Strength 29 / Intelligence 34 / Dexterity 29 / Will 22 / Luck 29 / Inventory Size 7 x 9