The All-New Erinn Beauty Box!
ANNOUNCE
10/5/2015 12:00:00 AM
An all-in-one kit has arrived to Mabinogi that will help you to quickly refresh your wardrobe! The Erinn Beauty Box contains fan favorite items, and even all new coupons for Eyes, Mouth, and Hair! If you're particularly lucky, you may even get a Starlet Wig Crystal Ball, or a Crusader Wig Crystal ball, which contain an entire set of wigs! Complete your fall makeover with the Erinn Beauty Box!
---
Erinn Beauty Box
Sale Dates:
Monday, Oct. 5 - Tuesday, Oct. 20
---
Erinn Beauty Box Details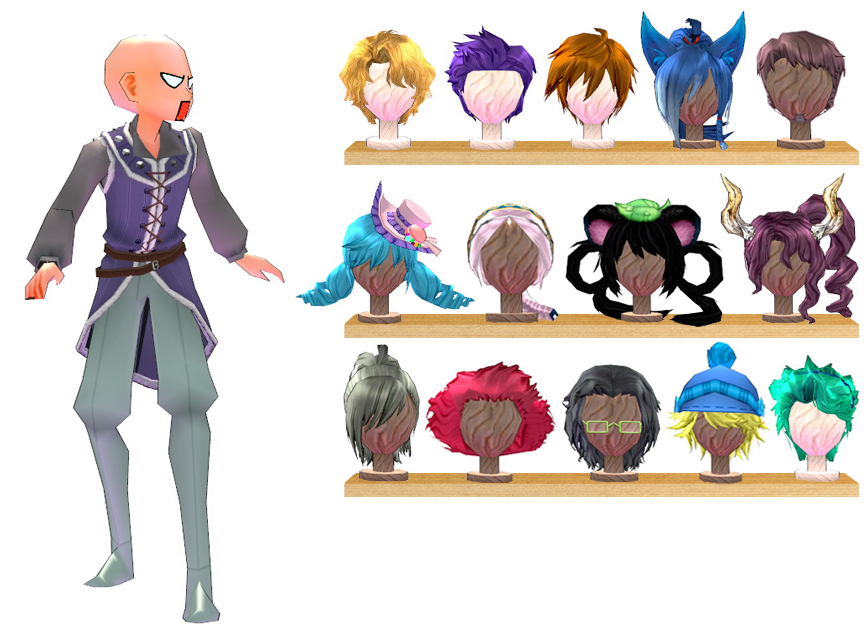 When you open up an Erinn Beauty Box you will receive 3 items randomly! The three items are:

A Random Appearance Item
A Random Eye Beauty Coupon
A Random Mouth or Face Beauty Coupon
Appearance Items
Rare Crystal Balls
Starlet Wig Crystal Ball

Contains all of the following:

Starlet Silver Brooch Wig
Rose Blossom Starlet Wig
Sweet Ribbon Starlet Wig
Starlet Hair Beauty Coupon (F)
Crusader Wig Crystal Ball

Contains all of the following:

Avelin Wig
Altam Wig
Talvish Wig
Brilluen's Wig
Brilluen's Horn Wig
Altam Hair Beauty Coupon (M)
Wigs
Starlet's Wig
Starlet Silver Brooch Wig
Rose Blossom Starlet Wig
Sweet Ribbon Starlet Wig
Macha's Wig
Girl's Wig
Avelin's Wig
Altam's Wig
Talvish's Wig
Count Cookie Wig
Count Cookie Hat & Wig
Brilluen's Wig
Brilluen Wig and Horn
Macaroon Mistress Wig
Macaroon Mistress Hat &Wig
Kitsune Ninja Hagi Wig
Tanuki Ninja Anju Wig
Shaman Wig (M)
Shaman Wig (F)
Eirawen Wig
Ronin Wig (M)
Ronin Wig (F)
Sporty Layered Wig
Sporty Layered Wig & Glasses
Refined Medium Wig
Neat Half Ponytail Wig
Elegant Long Straight Wig
Elegant Long Straight Wig (Glasses)
Juliet Wig
Shylock's Wig
Antonio's Wig
Bassanio's Wig
Eirawen's Tiara Wig
Lugh's Wig
Refined Medium Wig & Glasses
Neat Half Ponytail Wig & Glasses
Ninja Hagi's Wig
Ninja Anju's Wig
Romeo Wig
Portia's Wig
Tybalt Wig
Hamlet's Wig
Hamlet's Scarred Wig
Millia Wig
Kitsune Ear Wig
Tanuki Ear Wig
Dowra Wig
Cessair's Heart Wig
Maike's Wig
Tarlach's Wig
Halloween Frankenstein's Wig
Ophelia's Wig
Laertes's Wig
Paris's Wig
Mad Paris's Wig
Edern Wig
Berched Wig
Glewyas Wig
Waboka Wig
Admiral Owen Wig
Sinead Wig
Arzhela Wig
Kusina Wig
Annick Wig
Figure Skating Wig (F)
Odran Wig
Pierrot Wig
Pierrot Wig-Hat
Elegant Hanbok Hair
Witch Scathach Earrings and Wig
Scathach Wig
Scathach Earrings and Wig
Hats and Accessories
Propeller Headband
Droopy Dog Ear Headband
Folded Dog Ear Headband
Bear Ear Headband
Sheep Ear Headband
Majestic Stag Headband
Transparent Hat
Snowflake Hat
Snowflake Hairpin
Witch Scathach Earrings
Scathach Earrings
Eirawen's Tiara
Royal Headdress (F)
Starry Bunny Headband 5
Furry Bunny Headband 5
Leather Bunny Headband 5
Outfits
Eirawen Outfit
Cessair's Commander Boots
Portia Shoes
Hamlet's Caped Costume
Witch Scathach Shoes
Cessair Commander Gloves
Snowflake Coat
Snowflake Dress
Bassanio's Shoes
Cessair's Commander Outfit
Transparent Gloves
Transparent Shoes
Avelin Armor
Altam Armor
Talvish Armor
Avelin Gauntlets
Avelin Greaves
Altam Gauntlets
Altam Greaves
Talvish Gauntlets
Talvish Greaves
Witch Scathach Outfit
Scathach Outfit
Scathach Shoes
Snowflake Boots
Snowflake Shoes
Ophelia's Costume
Millia's Exploration Gloves
Romeo's Costume
Romeo's Shoes
Juliet's Dress
Juliet's Shoes
Maike's Outfit
Maike's Boots
Ophelia's Shoes
Laertes's Costume
Laertes's Gloves
Laertes's Boots
Lugh's Armor
Lugh's Vambraces
Lugh's Greaves
Karis Wizard Suit
Karis Wizard Shoes
Hamlet's Costume
Hamlet's Boots
Hamlet's Gloves
Antonio's Costume (G15)
Antonio's Shoes
Bassanio's Costume
Eirawen's Shoes
Odran Outfit
Odran Gloves
Odran Shoes
Admiral Owen's Marine Uniform
Admiral Owen's Open-Finger Gloves
Dowra's Outfit
Dowra's Bracers
Shylock's Shoes
Millia's Exploration Outfit
Millia's Exploration Boots
Bear Shoes
Bat Boots
Sewing Pattern - Rosemary Gloves
Coupons
Altam Hair Beauty Coupon (M)
Starlet Hair Beauty Coupon (F)
Macha Hair Beauty Coupon (F)
Maike Hair Beauty Coupon (M)
Romeo Hair Beauty Coupon (M)
Hamlet Hair Beauty Coupon (M)
Laertes Hair Beauty Coupon (M)
Tybalt Hair Beauty Coupon (M)
Paris Hair Beauty Coupon (M)
Mad Paris Hair Beauty Coupon (M)
Berched Hair Beauty Coupon (M)
Glewyas Hair Beauty Coupon (M)
Halloween Frankenstein Hair Beauty Coupon (F)
Millia Hair Beauty Coupon (F)
Dowra Hair Beauty Coupon (F)
Cessair's Heart Hair Beauty Coupon (F)
Girl's Hair Beauty Coupon (F)
Ophelia Hair Beauty Coupon (F)
Sinead Hair Beauty Coupon (F)
Half Updo Beauty Coupon (M)
Two Block Hair Beauty Coupon (M)
Sporty Cut Beauty Coupon (M)
Long Sideburns Beauty Coupon (M)
Straight Medium Cut Beauty Coupon (M)
Mushroom Hair Beauty Coupon (M)
Warrior Hair Beauty Coupon (M)
Soft Perm Beauty Coupon (M)
Medium Sideburns Beauty Coupon (F)
Short Wavy Perm Beauty Coupon (F)
Boyish Hair Beauty Coupon (F)
Ribbon Hair Beauty Coupon (F)
Wavelet Twin Tail Beauty Coupon (F)
Girlish Twin Tail Beauty Coupon (F)
Eye Beauty Coupons
Rag Doll Eyes Beauty Coupon
Innocent Bright Eyes Beauty Coupon
Unfocused Eyes Beauty Coupon
Observant Eyes Beauty Coupon
Determined Eyes Beauty Coupon
Serene Eyes Beauty Coupon
Stargazing Eyes Beauty Coupon
Heart-filled Eyes Beauty Coupon
Starlight Eyes Beauty Coupon
Emaciated Eyes Beauty Coupon
Mouth and Face Beauty Coupon
Mischievous Cat Mouth Beauty Coupon
Playful Teasing Mouth Beauty Coupon
Dissatisfied Mouth Beauty Coupon
Super Sour Mouth Beauty Coupon
Cute Animal Mouth Beauty Coupon
Airy Cheeks Mouth Beauty Coupon
Vigilant Mouth Beauty Coupon
Small Animal Mouth Beauty Coupon
Shooting Star Face Beauty Coupon (M) [For Humans/Partners]
Shooting Star Face Beauty Coupon (M) [For Elves]
Shooting Star Face Beauty Coupon (M) [For Giants]
Shooting Star Face Beauty Coupon (F) [For Humans/Partners]
Shooting Star Face Beauty Coupon (F) [For Elves]
Shooting Star Face Beauty Coupon(F) [For Giants]