AP Skill Training and Pet Bookmarking
ANNOUNCE
5/17/2017 12:00:00 AM

Mabinogi's latest update is here to reduce the grind and make your pets even easier to use! Skip the annoying training and get your skills powered up faster with AP Skill Training and better organize your pets with an improved Pet interface!
---
AP Skill Training
Have more AP than you know what to do with, but your skills just aren't as strong as you'd like? Use AP Skill Training to skip the grind and accellerate your Skill Training to maximum speed!
Spend AP to increase a Skill's Training Proficiency, speeding up the time it takes to rank up a skill
Skill's Training Proficiency must be at least 30/100 to use AP Skill Training
Skill Train from the Skill Menu
Can be used on all skills, except for the following:

Paladin
Dark Knight
Falcon
Beast
Demigod
Palalan Embrace
Shine of Eweca
Breath of Ladeca
Vision of Ladeca
Might of Ladeca
Spirit Awakening
Shield of Trust
Celestial Spike
Divine Link
Judgment Blade
---
Training EXP Boost
You have a reason to hold off on your Rebirths just a bit longer now with a special boost to Training your active skills! The higher level your character gets, the more Training EXP you'll get as you train your Active Skill, up to double EXP at level 200!
Level 1 - 99: No change
Level 100 - 109: +50% Training EXP
Level 110 - 119: +55% Training EXP
Level 120 - 129: +60% Training EXP
Level 130 - 139: +65% Training EXP
Level 140 - 149: +70% Training EXP
Level 150 - 159: +75% Training EXP
Level 160 - 169: +80% Training EXP
Level 170 - 179: +85% Training EXP
Level 180 - 189: +90% Training EXP
Level 190 - 199: +95% Training EXP
Level 200: +100% Training EXP
You can find your current Training EXP bonuses at the bottom of the Skill window.
---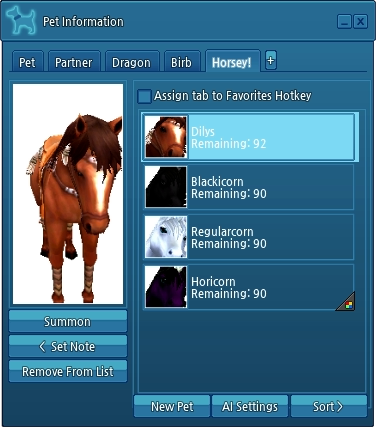 Pet Bookmarking
Between Dragons, Scooters, Clouds, Wolves, Fauns, Bone Dragons and even the occasional Horse, the Pet menu can become a bit of a mess for the dedicated Pet Collector. We've improved the menu to let you sort and bookmark your pets, making it easier to find the cuddly buddy you want!
Known Issue: When creating a new Pet tab, you will be unable to use the delete button to remove individual characters. You can still delete the whole tab name via ctrl-A and delete. This will be fixed in an upcoming update.