Abyss Dragon Box is swooping in!
ANNOUNCE
7/18/2018 5:14:23 PM
Unleash your inner dragon with the Abyss Dragon Box! Open one up to have a chance to get the Abyss Dragon Armor, Supreme Abyss Dragon Bone Wings (Enchantable), or even the Abyss Dragon Bone Tail. Check out the full details here!
---
Abyss Dragon Box
Sale Dates:
Wednesday, July 25, After Maintenance - Thursday, August 23, Before Maintenance
---
Item Details:
When you open an Abyss Dragon Box, you will receive a Combat 2x EXP Potion (10 min) and a random item from the list blow.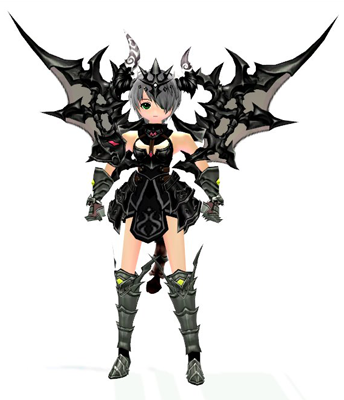 New Items
Additional Items
Divine Demigod Suit (M)
Divine Demigod Suit (F)
Divine Demigod Horn
Divine Demigod Wig (M)
Divine Demigod Wig (F)
Divine Demigod Horn and Wig (M)
Divine Demigod Horn and Wig (F)
Divine Demigod Glove
Divine Demigod Boots (F)
Divine Demigod Boots (M)
Icarus Enchant Scroll Coupon
Crow's Enchant Scroll Coupon
Osprey's Enchant Scroll Coupon
Stork's Enchant Scroll Coupon
Parrotbill's Enchant Scroll Coupon
Crest Enchant Scroll Coupon
Tail Feather Enchant Scroll Coupon
Sturdy Ox Armor (M)
Sturdy Ox Armor (F)
Sturdy Ox Gauntlets (M)
Sturdy Ox Gauntlets (F)
Sturdy Ox Boots (M)
Sturdy Ox Boots (F)
Sturdy Ox Horn Helm
Scythe that Reaps Darkness

Reaper's Outfit (M)
Reaper's Outfit (F)
Reaper's Gloves (M)
Reaper's Gloves (F)
Reaper's Boots (M)
Reaper's Boots (F)
Flame Patterned Leather Armor (M)
Flame Patterned Leather Armor (F)
Flame Patterned Leather Cap
Flame Patterned Leather Gloves
Flame Patterned Leather Boots
Dark Knight Helm
(Reforge: Rank 1, Enchant: Vine/Dexterity)
Dark Knight Gauntlets
(Reforge: Rank 1, Enchant: Expansive/Elegant)
Dark Knight Armor (M)
(Reforge: Rank 1, Enchant: Basic/Avenger)
Dark Knight Armor (F)
(Reforge: Rank 1, Enchant: Basic/Avenger)
Dark Knight Boots (M)
(Reforge: Rank 1, Enchant: Fleet/Elegant)
Dark Knight Boots (F)
(Reforge: Rank 1, Enchant: Fleet/Elegant)
Crystal Hammer of Durability
Brass Grandmaster Certificate
Fixed Color Hair Dye Ampoule (Hex: #623022, #DC9C34, #EFEAB5, #2881DD, #7D0328, #F18372, #FFDCB8, #AF0024, or #E8DE73)
Magma Dragon Crossbow
Magma Dragon Crossbow Appearance Scroll
Fried Chicken Drumstick Appearance Scroll
Marinated Chicken Drumstick Appearance Scroll
Executioner's Sword Appearance Scroll
Tiger Knuckle Appearance Scroll
Sheep Mace Appearance Scroll
Serpent Sword Appearance Scroll
Sickle Rat Staff Appearance Scroll
Angelic Monkey Staff Appearance Scroll

Name/Chat Fixed Color Change Potion (Hex: #E7D89D, #FFFFFF, #76E5EC, #FFAAAA, #DB7093, #A6FF4D, or #F1997A)
Direct Dye Ampoule
Direct Magical Instrument Dye
Spirit Digestive Elixir (Quantity: 5)
Eweca, Ladeca, and Palala Spell Book (Reforge: Rank 1, Enchant: Mana Stone/Professor's)
Pet Fixed Color Dye Ampoule (Hex: #000000, #FFFFFF, #FF0000, #0000FF, #FFFF00, or #8E1515)
Fixed Color Dye Ampoule (Hex: #000000, #FFFFFF, #FF0000, #0000FF, #FFFF00, or #8E1515)
Elite Pass - Their Method (Tradable)
Elite Pass - The Sulfur Spider inside Shadow Realm (Tradable)
Elite Pass - Shadow Cast City (Tradable)
Elite Pass - Lingering Darkness (Tradable)
Elite Pass - Dorren's Request (Tradable)
Elite Pass - Provocation (Tradable)
Elite Pass - Enemy Behind (Tradable)
Elite Pass - The Other Alchemist (Tradable)
Elite Pass - Defeat the Shadow Wizard (Tradable)
Elite Pass - Rescue the Scout (Tradable)
Elite Pass - Offering (Tradable)
Elite Pass - Taillteann Defensive Battle (Tradable)
Elite Pass - Battle for Taillteann I (Tradable)
Elite Pass - Battle for Taillteann II (Tradable)
Elite Pass - Ghost of Partholon (Tradable)
Elite Pass - Defeat Fomor Commander I (Tradable)
Elite Pass - Defeat Fomor Commander II (Tradable)
Elite Pass - Fomor Attack (Tradable)