What's in the BOX?!
ANNOUNCE
7/18/2012 4:16:56 PM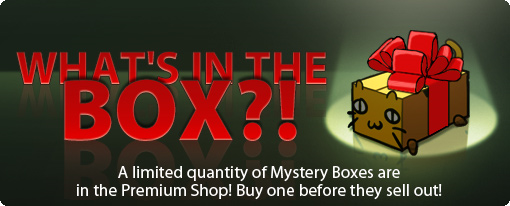 What's in the BOX?!
The coveted Mystery Box is back again and better than ever! You may be awarded a character card, pet card, and/or even premium service! And don't forget the in-game and cash shop items! With such a plethora of prizes it's hard to pass up such an opportunity, so be sure to not delay, the new Mystery Boxes will be sold from July 18th to August 1st or until stock runs out!
Can't wait to see what's in store? Check out some of the awesome items!
Secret Knight Lance
Royal Pumpkin Rapier
Squirrel Ragdoll
Desert Fox Ragdoll
Nao Tan
Moon Festival Chinese Dress
Ruyuefeixue's Butterfly Fan
Puffy Cocktail Dress
Thames Plate Armor
Siberian Husky
Mini Bear
Yukata Mini
Jumping in the Rain
Mini Skeleton
Little Ghost
Premium Service 30 Days
VIP Service 30 Days
Human Wonderland Card
Elf Wonderland Card
Giant Wonderland Card
Mabinogi VIP Service 1 Day
That is just a small portion of what's available! The full list can be found here.

Need NX? Get Some!