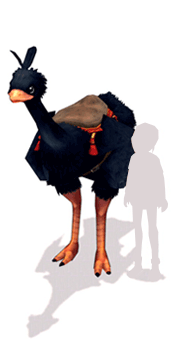 Tap-dances to music.
Uses Rush skill to instantly scamper at a high speed.
Can mount one person on its back.
Inventory Size : 4 x 8
Ostriches are the representative animals of Iria.With the fluffy mass of black pinfeathers that cover their bodies, Black Cotton Ostriches seem cozy and snuggly.

Their display of passion for tap-dancing is apparent in the rhythmic steps that are perfectly harmonized with the music they hear, and their reliable two legs also
offer helpful benefits when transporting people or loads.

Unlike their cute and adorable appearance, however,Black Cotton Ostriches are competitive by nature and welcome challenges. They also have a special skill that allows them to instantly enhance their speed and scamper when necessary.

Enjoy the breeze in Erinn as well as a slight upgrade in HP and MP by traveling with a Black Cotton Ostrich.
Available Skills
Defense
Smash
Counterattack
Combat Mastery
Critical Hit
Rest
Healing
Firebolt
First Aid
Rush
Summon Time 83 min / HP 59 / MP 39 / Stamina 67 / Strength 26 / Intelligence 27 / Dexterity 24 / Will 31 / Luck 17 / Inventory Size 4X8