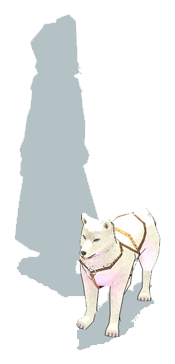 Can pull a sled on snowfields
Inventory Size : 6 x 5
Alaskan Huskies, commonly knownas sled dogs, are covered in snow white fur
that give them a mysterious and exotic look.
Alaskan Huskies are descendents of wolves,hence they are often mistaken as ferocious animals.However, they have a long history of accompanying people, and no traces of wildlife can be found in their adapted personalities.

While Alaskan Huskies are calm and obedient to their masters, their firm built and subsequent strength allow them to pull sleds for a long period of time;
their apparent force and vigor rival those of other strong animals in Erinn.
One of the most notable characteristics of Alaskan Huskies In Erinn is their ability to pull sleds on snowfields. For said reason, they are considered a crucial part of snowfield exploration.

Even when they are not pulling sleds,these Alaskan Huskies stay by their masters and assist in battle as well as enhance HP, Stamina, and Strength.

If you wish to travel through a snowfield,how about seeking pleasant assistance from a loyal Alaskan Husky?
Available Skills
Rest
Defense
Smash
Counterattack
Combat Mastery
Critical Hit
Healing
Firebolt (Available when the pet reaches Level 4.)
First Aid
Summon Time 122 min / HP 71 / MP 27 / Stamina 58 / Strength 35 / Intelligence 18 / Dexterity 17 / Will 36 / Luck 22 / Inventory Size 6 x 5