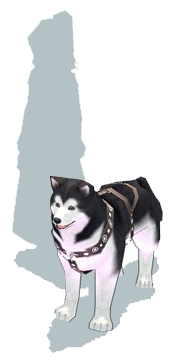 Can pull a sled on snowfields
Inventory Size : 6 x 7
Malamutes are descendents of wolves, hence they are often mistaken as ferocious animals. However, Malamutes have a long history of accompanying people, and no traces of wildlife can be found in their adapted personalities.

Malamutes are social and curious, and they enjoy playing with kids. Additionally, their firm built and subsequent strength allow them to pull sleds for a long period of time, and their apparent force and vigor rival those of other strong animals in Erinn.

They can pull sleds anywhere there is snow,so their role in snowfield explorations is regarded as crucial to adventurers.

Even when they are not pulling sleds, Malamutes stay by their masters and enhance MP and Intelligence, as well as exhibit outstanding Healing skill.

Their boundless energy and determination render them the perfect companions for adventures in bleak, cold, and snowy Physis.
Available Skills
Rest
Defense
Smash
Counterattack
Combat Mastery
Critical Hit
Healing
Firebolt
First Aid
Summon Time 105 min / HP 58 / MP 37 / Stamina 52 / Strength 30 / Intelligence 22 / Dexterity 27 / Will 29 / Luck 25 / Inventory Size 6 x 7