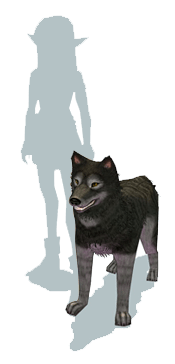 Reactively morphs into a Human under Eweca.
Inventory Size: 6 x 6
You can't miss the Black Wolf. Just take one look and you'll see that, with its sharp teeth and pointed ears and a black mane that resembles the soot of an extinguished flame, the Black Wolf more than meets the eye.
Eweca has always been responsible for creation and change, and Erinn's Black Wolf reacts to this light from Eweca and possesses a special ability to morph into a Human. The morphed Black Wolf will increase its HP, MP, Stamina, Strength, Intelligence, Will, and Luck, but can also use a basic level Windmill skill.
Although reputed to shun strangers and outsiders, the morphed Black Wolf will imitate its owner's behaviors and often surprise you with fanciful and affectionate behavior. Because of its natural wild instincts, however, it will also display exceptional fighting skills when engaging in combat.
The Black Wolf—a close companion to its owner, yet a beast that will hold nothing back against its enemies. Why not add a little spice to your adventures in Erinn with the Black Wolf as your companion?
Available Skills
Rest
Defense
Smash
Counter Attack
Combat Mastery
Critical Hit
Healing: Can be used when the animal level is 4 or higher
Lightning Bolt: Can be used when the animal level is 6 or higher
First Aid
Windmill (Can only be used when morphed into Human form)
Summon Time 109 minutes / HP 52 / MP 28 / Stamina 45 / Strength 36 / Intelligence 17 / Dexterity 20 / Will 23 / Luck 17 / Inventory Size 6 x 6